This is an archived article and the information in the article may be outdated. Please look at the time stamp on the story to see when it was last updated.
Get set for another evening of high school football!
Temperatures are expected to soar Friday afternoon into the mid-90s, making for a very hot afternoon for anyone tasked with finishing up last minute landscaping and groundskeeping on the field and within the stadium.
Luckily for players, fans, and marching band members, the sun will be setting shortly before kickoff, ensuring that temperatures will gradually cool into the upper 70s by the end of the 4th quarter.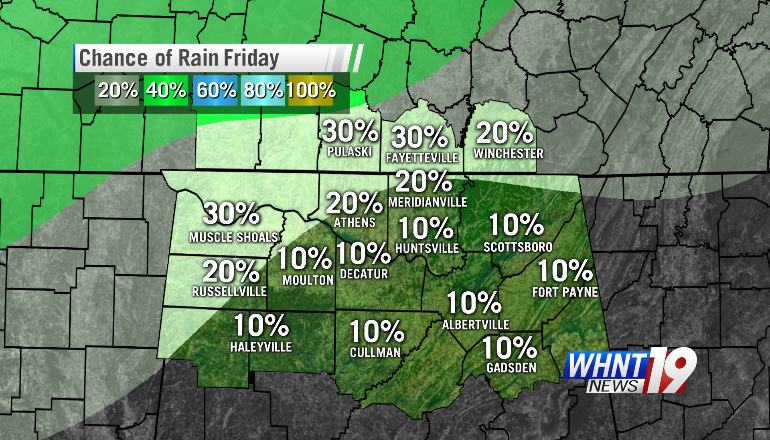 Regarding the chance of rain: It is not zero, but we are not anticipating a complete washout, either. A few showers and thunderstorms are possible — mainly north of the Tennessee River — due to the heat and humidity that builds during the afternoon. Any storms that develop are expected to be isolated in nature, but where they do form, they could produce as much as half to one inch of rain before eventually fizzling out.
These afternoon storms are most likely between the hours of 2 p.m. and 6 p.m., but they are expected to dissipate in time for the majority of the Tennessee Valley schools to experience a successful kickoff. Skies will become partly cloudy throughout the game, allowing temperatures to eventually cool into the upper 70s for the ride home.