This is an archived article and the information in the article may be outdated. Please look at the time stamp on the story to see when it was last updated.
This week, we'll watch north Alabama's very own Jay Kendrick compete in the FLW Forrest Wood Cup.  He's a part-time nurse anesthetist and he's a pro angler.
Recently, he took WHNT News 19 sports reporter Taylor Tannebaum out on the lake to teach her how to fish.
Taylor is from south Florida, but would you believe she's only gone fishing a few times in her life?
"What you got, Taylor is a basic spinning rod and reel.  On a spinning rod the reel hangs below the rod, on a casting rod the reel sits on top.  What you wanna do is you wanna reel bait up six to eight inches below tip of the rod. then you're gonna hook your index finger inside the line then you're gonna flip the bale over, there you go.  Then I'm gonna turn the boat sideways and were gonna cast out that way.  As you bring the rod back, the line's gonna load on your index finger and you're gonna feel the weight of the lure."
Taylor let it fly.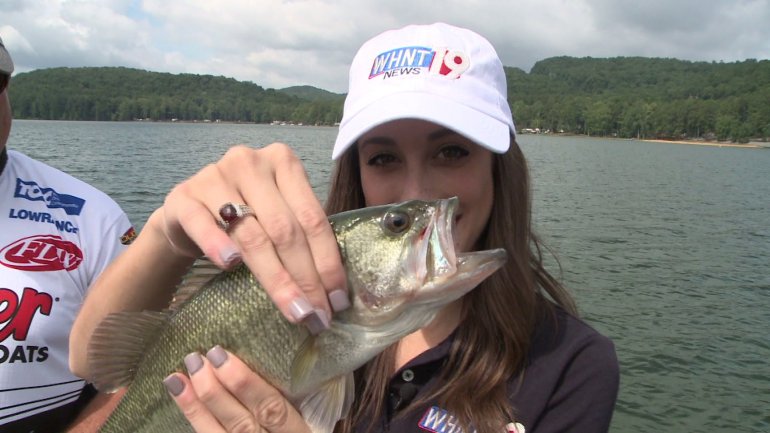 Then, the wait.  After a bite or two, she eventually got a fish!  We're proud of her. She held it up for a picture and then threw it back.
The FLW Forrest Wood Cup on Wheeler Lake is Thursday through Sunday, August 4-7.  Kendrick and other professional anglers will compete for a $300,000 grand prize.  You can watch the weigh-in each day at 5 p.m. in the Von Braun Center's Propst Arena.
Check out the FLW Expo on Friday and Saturday at the VBC — there are freebies and contests, including one from WHNT News 19.  We'll give away 1,000 no-tangle fishing rods to the first 500 kids through the door on Saturday and Sunday.  Children must be 14 or younger to be eligible.  Here's more information.