This is an archived article and the information in the article may be outdated. Please look at the time stamp on the story to see when it was last updated.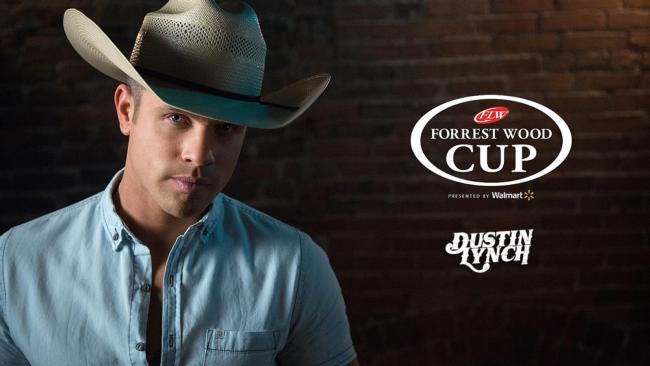 HUNTSVILLE, Ala. – If you love bass fishing and you're a country music fan, attending the 2016 Forrest Wood Cup on Wheeler Lake in Huntsville, Ala., Aug. 4-7 is undeniable with chart-topping country star Dustin Lynch performing a FREE concert prior to Sunday's final weigh-in at the Von Braun Center. The concert is being presented by 102.1 WDRM.
The concert begins at 4 p.m. in Propst Arena. Gates to Propst Arena open at 2:30 p.m.
The Broken Bow recording artist recently notched his third consecutive No. 1 single with "Mind Reader" landing in the top spot on both the Mediabase and Billboard Country Radio Airplay Charts this week. The sultry, R&B-influenced song (co-written by Rhett Akins and Ben Hayslip) follows his previous two No. 1 smashes: GOLD-certified "Hell Of A Night," and PLATINUM-certified "Where It's At." All three chart-toppers are featured on his latest album "Where It's At," which has quickly vaulted Lynch to stardom.
Growing up in Tullahoma, Tenn., Lynch is an avid hunter and angler. He lived the kind of rural life celebrated by country music, and his album reflects those roots. His parents urged him to attend college and get his degree (he graduated pre-med from David Lipscomb University), but music was always his dream. And now Lynch is living the dream.
Since releasing his PLATINUM debut single "Cowboys And Angels," Lynch has catapulted onto the country music scene. Racking up more than 53 million views on YouTube/VEVO, scoring 106 million plus streams on Spotify, soaring to No. 1 on the MTV Music Meter and selling 3 million digital singles, he brings a fresh combination of traditional influences and edgy intensity to the genre. Producers Mickey Jack Cones, Brett Beavers and Luke Wooten showcase his progressive sound throughout his sophomore album, "Where It's At" (Broken Bow Records), which debuted at No. 1 on the iTunes Country Albums Chart upon release and has tallied more than 1 million tracks sold to date.
Fresh off his heavily pre-sold out, headlining HELL OF A NIGHT TOUR, Lynch is currently on the road with Luke Bryan's 2016 KILL THE LIGHTS TOUR, marking his second run as the superstar's opener. Named by FOX News as country music's "next big thing," Lynch is the only artist Bryan handpicked as an opener for a subsequent tour. Fans can catch Lynch at the final weigh-in of the Forrest Wood Cup in Huntsville, Ala., on Aug. 7.
For more information, visit DustinLynchMusic.com.