This is an archived article and the information in the article may be outdated. Please look at the time stamp on the story to see when it was last updated.
HUNTSVILLE, Ala. – When Huntsville Swim Association Assistant Coach Blakeley Bunch talks about flourishing at the grueling sport of year-round swimming, the former Auburn University star athlete points to discovering balance.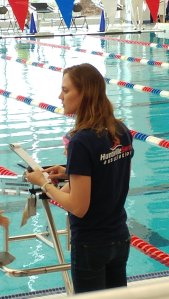 "For coaching, you should find that balance between overall distance training versus intensity while also inserting proper stroke technique," Bunch said. "A very important thing for the athletes to realize is they need to have balance in the pool with the training, along with other things they focus on in their lives. Ironically, finding stabilization is a big key. They need to find the right proportions to keep themselves motivated."
As many sports now offer year-round competition, coaches and athletes look for insight on stability from USA Swimming, one of the first and arguably the most successful full-time venues.
USA Swimming is a 400,000-member service with more than 2,800 teams competing year-round across the nation. The organization is also responsible for selecting and training teams for international competition, including the Olympic Games.
Bunch says achieving the correct equilibrium consists of actually attaining a good counterbalance. Doing other activities outside of training and competition help athletes stay focused and not burn out.
"For me, growing up with swimming, it was also playing the cello," said Bunch, who is in her first year coaching with HSA. "That was a major part of the balance I found in my life early on. I took lessons and played with my orchestra in school. I've always loved music and it is one of my huge passions."
Bunch went to Auburn University on her initial recruiting trip. She then visited the University of Tennessee and the University of California-Berkeley.
"Auburn was always first in my mind. I loved the team atmosphere and it just felt like home to me. I also coached at Auburn with our head coach David Marsh and then Richard Quick for the Auburn swim camps in the summer. I never expected to like coaching as much as I did. I really enjoy working with people. Swimming is an individual sport to a degree, but my closest friends are ones I've made on swim teams. They are always going to be life-long friends."
At Auburn, Bunch competed four years and was part of two NCAA National Championship teams (2006, 2007). She qualified for the Olympic Trials in 2008 where she swam the 400 IM and 200 backstroke.
"I missed the Olympic Trials in 2004 by three one-hundredths of a second," Bunch said. "It was so close. Getting the cuts in 2008 were huge accomplishments."
Bunch graduated from Auburn with a degree in international business. She has resided in the Huntsville/Madison area since 2011 and previously coached with the Madison Swim Association and the Madison Dolphins Swim League.
She also coached for Boulder City, Nev., Henderson Heatwave Swim Team. She assisted in a runner-up state championship title, with 37 individual and seven relay first-place finishes.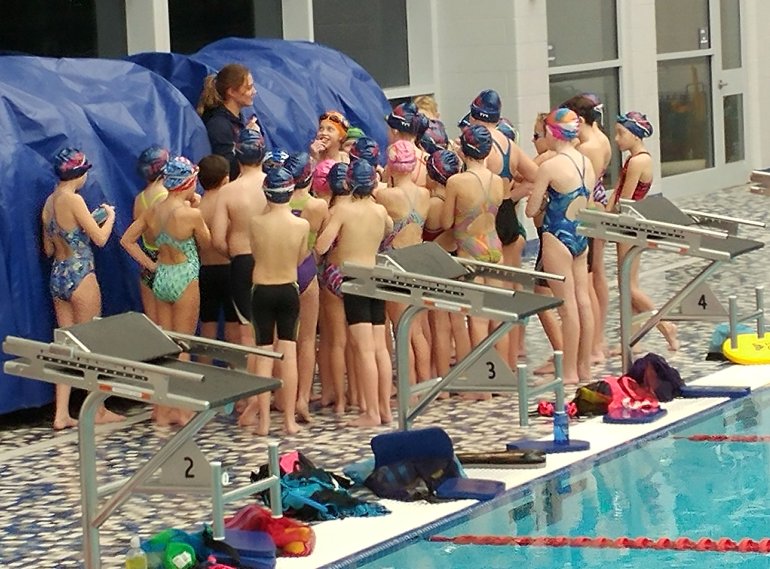 "Blakeley (Bunch) has a great heart and does an outstanding job working with the younger kids, but the exciting thing is we have her working with some of the older kids, too," said HSA Head Coach Matt Webber. "She has a great versatility for the staff and a vast knowledge of the sport. She swam Division I at a high caliber level with Auburn. She brings in a huge base from just having been there as a swimmer and is also a great technical teacher, who can relate well to the swimmers."
Bunch attended Boulder City High School and swam with the Boulder City Henderson Heatwave Swim Team under Coach Mike Polk. She was the 2003 Las Vegas Review Journal High School Swimmer of the Year, 2004 Nevada High School 500 freestyle champion, California/Nevada Sectional Champion in the 200 backstroke and 400 IM, 2005 Regional Swimmer of the Year, 2005 Boulder City High School Swimmer of the Year, swimmer for the Nevada State 1st Place Team five years, High School All American multiple times and a member of the USA Swimming All America Academic Team.
"I started swimming by taking lessons in a backyard pool when I was age 3," Bunch said. "I remember how I liked watching my shadow move along the bottom. I found out there were also afternoon swim lessons being offered and I wanted to do that, too. Then, I joined the swim team when I was 7 years old."
Still competing, Bunch set a record time for both women and men in the Swim Hobbs Island 5-mile open water event in the Tennessee River last September with a remarkable time of 1:58.14.7.
Bunch doesn't have to look far to find family when she is coaching at the Huntsville Aquatic Center. Blakeley Bunch works alongside her mother, Jan Bunch, who is also an HSA assistant coach.
"My mom moved here to be close to me and my son, Zander," Bunch said. "He is 4 years old and is starting to learn how to swim. My son and my family are definitely the biggest balancing factors in my life now."
HSA hosts the 2018 New Year's Intra-squad Mini Meet at Redstone Arsenal Aquatics Center Saturday, Jan. 6. The Aquatics Center is an eight-lane, 25-yard facility located at 3705 Aerobee Road. The pool is operated by the army's MWR program.