This is an archived article and the information in the article may be outdated. Please look at the time stamp on the story to see when it was last updated.
MADISON COUNTY, Ala. - David McKannan was an avid runner, loving father, husband and brother who lost his battle with ALS in 2012.  He was a runner at Grissom and Auburn and held several state records, some of which still stand.  He was diagnosed with ALS in 2008.  Family member, Jon McKannan,  says the 5K Memorial Run happening this Saturday, May 7th is held in memory of David.  The run was established to raise money for research on ALS.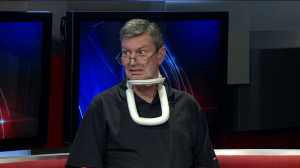 The 5K race begins at 7:00 a.m. at Grissom High School. The course will take runners through the familiar streets of southeast Huntsville that David ran during his youth, and as a track star at Grissom High School. The 1 mile fun run begins at 8:00 a.m. and will be ran on the Grissom High School campus. Both the 5K and 1 mile fun run will finish in front of Grissom High School.  Age-group awards will be given at the end of the race.
Late registration and packet pickup is at Fleet Feet tomorrow, Friday, May 6th, from 10 am to 6 pm, or Saturday at 6 am.   Registration for the race is $25.00. You can also register at fleetfeethuntsville.com.
ALS stands for Amyotrophic Lateral Sclerosis, also known as Lou Gehrig's disease.  It is a disease of the nerve cells in the brain and spinal cord that control voluntary muscle movement.  According to the ALS Association, an average of 15 people are diagnosed every day with ALS, more than 5000 people per year.  As many as 30,000 Americans are affected by ALS.