This is an archived article and the information in the article may be outdated. Please look at the time stamp on the story to see when it was last updated.
MADISON, Ala. – Bob Jones High School has a new girls head basketball coach. Assistant Principal and Athletic Director Luther Tiggs announced Andre Reynolds as the new coach for the Lady Patriots.
Reynolds was assistant coach under Danny Petty, who accepted the head coaching job for boys basketball at James Clemens High School.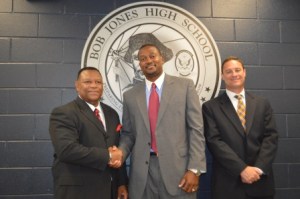 Bob Jones Principal Robby Parker said Reynolds is a good fit. "We still love Coach Petty but we won't miss a beat under Coach Reynolds. There is no doubt he's ready," Mr. Parker said. Tiggs said Reynolds has strong character, is a great leader and an effective communicator.
"We're thrilled to welcome Andre as our new girls basketball coach. He has a deep appreciation for the balances that are required for student-athletes. Andre has a great ability to communicate and he's a perfect fit for what we're trying to accomplish here at Bob Jones High School," Mr. Tiggs said.
Reynolds vowed Bob Jones will be a strong competitor for the state title. With many of his players looking on, he stressed he wants them to be good athletes but also good students and members of the community.
Before coaching, Reynolds was a standout player in both football and basketball at Dothan High School. He graduated from Athens State University with a degree in Physical Education and Health Education. Reynolds also holds a Master of Science degree in PE from Jacksonville State University. He and his wife, Lawanda, have one daughter, Destiny.
-Information provided by John Peck, Madison City Schools