This is an archived article and the information in the article may be outdated. Please look at the time stamp on the story to see when it was last updated.
PASADENA, Calif. (WHNT) – Employees at The Rose Bowl Stadium at busy with a quick changeover from The Rose Bowl on January 1 to The National Championship on Monday, January 6th.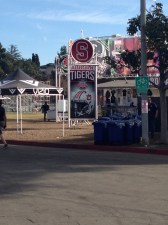 When WHNT News 19's Carson Clark and Megan Hayes stopped by the stadium today, preparations were in full swing.  We met with stadium media coordinator Eric Kay who told us the employees are well versed in taking care of this quick reset.
The sign to the left shows just how things are right now. The base of the sign has an auburn helmet on it, but the top still has the Stanford logo.  By Monday, everything will be ready to go.
Be sure to join the WHNT News 19 crew for the BCS National Championship Pregame Special on Saturday night at 7:00.
Also, watch for reports from Megan Hayes and Carson Clark in the days leading up to the big game.
Several gather outside Rose Bowl Stadium in the days leading up to the National Championship game.

As you can see, things aren't quite ready outside the stadium.

Everything is still in transition outside the stadium. It will all be ready for game day!

Main gate at The Rose Bowl

Banner in front of Will Call ticket office. Check out the beautiful mountains in the distance.

Another of the many banners around The Rose Bowl.

Special Access is required to get to this area in front of the stadium right now.

The main banners are up on the stadium.

Megan Hayes & Carson Clark Interview Eric Kay for their story.