This is an archived article and the information in the article may be outdated. Please look at the time stamp on the story to see when it was last updated.
AUBURN, Ala. – The Auburn University football team may see drastic changes to their home stadium in the coming years. That is, if there is enough support for the changes.
Athletic Director Jay Jacobs believes it is import to provide an exceptional gameday experience, and to recruit at the highest level. He says that is the reason it's time for Auburn to move forward with renovations on Jordan-Hare Stadium.
According to the athletic department's website, only one question remains: How much support exists among Auburn football donors, supporters and fans for what could be a major renovation to the North End Zone?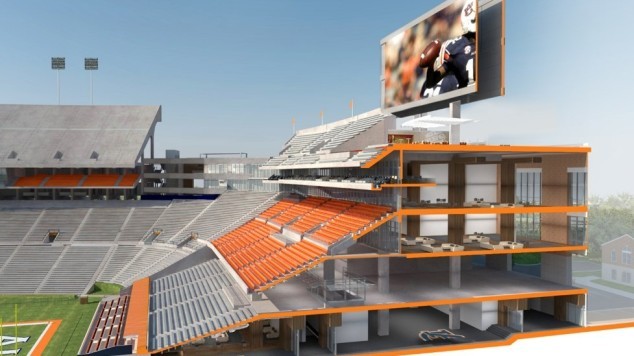 Tigers Unlimited, which is the fundraising and donor services for Auburn Athletics, is putting a survey in the field to donors with seats in the select areas of the stadium.
"Before we move forward and ask for approval on such a major project, it's vitally important for us to reach out to the Auburn Family," Jacobs said. "This survey is critical because it will help us determine the level of interest and support for a potential renovation to Jordan-Hare Stadium. The level of interest and support in a major stadium renovation must be substantial for it to be feasible."
Designers want to generate more space for fan amenities, including additional concessions and restroom facilities, elevators and escalators. They also want to add a North End Zone video Board. The renovations would also address an outdated locker room and recruiting space for the team.
There would also be a new option for premium seating for Tigers Unlimited donors.
"We know it's important to continue to improve the gameday experience, and that's why it's been a focus of mine for years now." Jacobs said. "We know our fans and donors want more amenities such as more premium seating options but also other amenities that all of our fans will benefit from."
Jacobs believe recruiting goes deeper than just getting athletes to attend the university.
"This is about the gameday recruiting experience as well," Jacobs said. "That impacts all of our sports and our entire university, not just football. We have hundreds of prospective student-athletes for many sports here on any given Saturday. A lot of their first impressions of Auburn and who we are come from their experience at Jordan-Hare Stadium."
The Athletics Department has worked with contractor and engineers for the last two years on the preliminary plans. The change would expand the North End Zone concourse and create a continuous walkways through the entire stadium.
The surveys will soon hit email inboxes. They will include images and renderings of the proposed changes; giving a more detailed visual. Jacobs reminds everyone, these are only renderings and the project is in the preliminary stages.
All plans would need to be approved by the Board of Trustees. Jacobs says his department will only seek approval if there is significant interest by the Auburn Family.
"Nothing has been approved and nothing is final," Jacobs said. "We are sharing the renderings with donors so they can see the vision of what the North End Zone could be."
Fans who currently hold tickets in the North End Zone may be impacted by the renovation. The Athletics Department has set up an email address and web page to take feedback from those individuals.
"We want their input and feedback, and I encourage them to offer it," Jacobs said. "Fan and donor feedback has driven a lot of what we've done with the gameday experience that has proven to be popular and helped make Auburn's gameday experience the best in the nation."
The survey will be sent to roughly 5,000 Tigers Unlimited accounts.
Fans wishing to provide feedback can do so by emailing JHSRenovation@auburn.edu or visit the website here.
Rendering of possible renovations to the North End Zone at Auburn University's Jordan-Hare Stadium (Image: Auburntigers.com)

Rendering of possible renovations to the North End Zone at Auburn University's Jordan-Hare Stadium (Image: Auburntigers.com)

Rendering of possible renovations to the North End Zone at Auburn University's Jordan-Hare Stadium (Image: Auburntigers.com)

Rendering of possible renovations to the North End Zone at Auburn University's Jordan-Hare Stadium (Image: Auburntigers.com)