This is an archived article and the information in the article may be outdated. Please look at the time stamp on the story to see when it was last updated.
PHOENIX, Ariz. - The College Football Playoff National Championship is getting closer and closer! Reporters from all over the country are making their ways to the desert for the biggest college game of the year.
The Alabama Crimson Tide landed in Arizona Friday afternoon. The team left Tuscaloosa earlier that afternoon after practicing for a few hours in the morning.
#Alabama is in Arizona @whnt pic.twitter.com/cEYAN06pXW

— Ryan Cody (@RyanThomasCody) January 9, 2016
Clemson also flew out to Arizona Friday. This will be Clemson's second appearance in a national championship game. The Tigers won the 1982 Orange Bowl and were named national champions.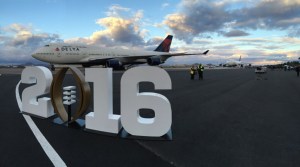 That gives each team two days of practice in Arizona before kickoff on Monday.
Getting adjusted is important. Both teams are changing time zones - one hour difference for the tide, two for the Tigers. Physically that can be challenging but mentally, but the game plan is already installed.
We expect to see a bit of a chess match with the Alabama offense. Nick Saban put the Michigan State game in the hands of his quarterback, Jake Coker, when almost everyone assumed it would be the Derrick Henry show.
Obviously it worked, and that coaching gamble is partially why the Tide is here.
Offensive coordinator Lane Kiffin said, "We did ask him to do some more things last week because of the defense we were playing and that match-ups we had... so Jake made a lot of jog throws in that game. Very accurate with the ball."
Coker's maturation is obvious throughout this season, but even more so throughout his entire collegiate career. Most forget he was Jameis Winston's backup when Florida State won its BCS title two seasons ago. An experience he says he will never forget, but according to him, this one would mean so much more.
Coker said, "I love that team. It's a special memory when I look back on it. But this year... I get to play for my home state and with a new group of guys that are a group I wouldn't trade for anybody else. This is going to be special to me and I'm just really looking forward to it."
The last quarterback to win a national championship as a backup before transferring to a different school and win as a starter? Cam Newton. He was on the 2008 Florida roster when the Gators won it, then led Auburn to the title two seasons later.
Alabama and Clemson staying hush-hush to the media on Friday, but that all changes Saturday morning.
Media Day kicks off from the desert bright and early. It will be the first and last chance to hear from players before kickoff on Monday night.
The national championship is set for Monday, January 11, at 7:30 p.m CST.