Recreational vehicles are the perfect method of seeing the country's great wonders and beautiful splendor. It's convenient to simply pack your bags, fill up the gas tank and hit the road in whichever direction you choose. Just don't forget to fill up the RV generator.
However, when you are not behind the wheel, your RV needs to be stored away from the elements and protected with a cover. There are several kinds to choose from, but before buying, there are some things to consider.
In this article: King Bird Upgraded Class-C RV Cover, Classic Accessories OverDrive PolyPro 3 and Quictent Upgraded Travel Trailer RV Cover
Keeping your RV safe and clean
Material
The construction material of an RV cover is an important factor when deciding how to protect your vehicle. And that depends on the weather. Polyester is best suited for warm, dry climates, while polyethylene and polypropylene are better for rainy or humid environments.
If your RV is exposed to direct sunlight for a long period, it's better to invest in a solution-dyed acrylic that can withstand ultraviolet rays. But you don't have to cart around different covers depending on where you go. Slightly more expensive fabrics have several layers sewn into the lining to guard against most conditions.
Size and shape
A critical aspect of buying an RV cover, besides ensuring the material is sufficient, is that the cover is large enough. You want to protect as much bodywork as possible, but that doesn't mean you must completely wrap it in a blanket.
Recreational vehicles come in different shapes, and your cover must be compatible with the shape of the RV too. If not, you will struggle to get a correct fit, which can diminish the cover's usefulness.
You can also use several large sheets of single coverings, but that will be tougher to apply than a pre-made cover for your RV type.
Protection level
The sun's UV rays can be highly damaging to an RV's bodywork, which is the most significant reason you'd want to cover it. But you must decide what protection level you want and which elements you are most likely to encounter.
For example, you might not need a waterproof cover for humid conditions, but you'll definitely need it for the rainy season. A water-resistant cover is also preferable for snow, but a cover with some breathability is an excellent option in hot temperatures.
Handling
Another challenge is handling the cover. When folded for storage, you can probably move it around by yourself, but consider if you'll need a second person when it comes to putting it on. It's frustrating when you think you have one corner over the edge, only to see it slip off when you attempt the other side. Of course, there are some tricks that can let you do this alone, but it's worth keeping in mind.
Price and additional features
A simple cover is great, but it's much better if it has some extra features. Some RV covers have tie-down straps to make them more secure and easier to apply, while others have air vents that prevent billows and air pockets from forming.
But any additional feature usually means an increase in cost. You can spend anywhere from $50-$500 on an RV cover, depending on the number of layers, protection and size.
Best RV covers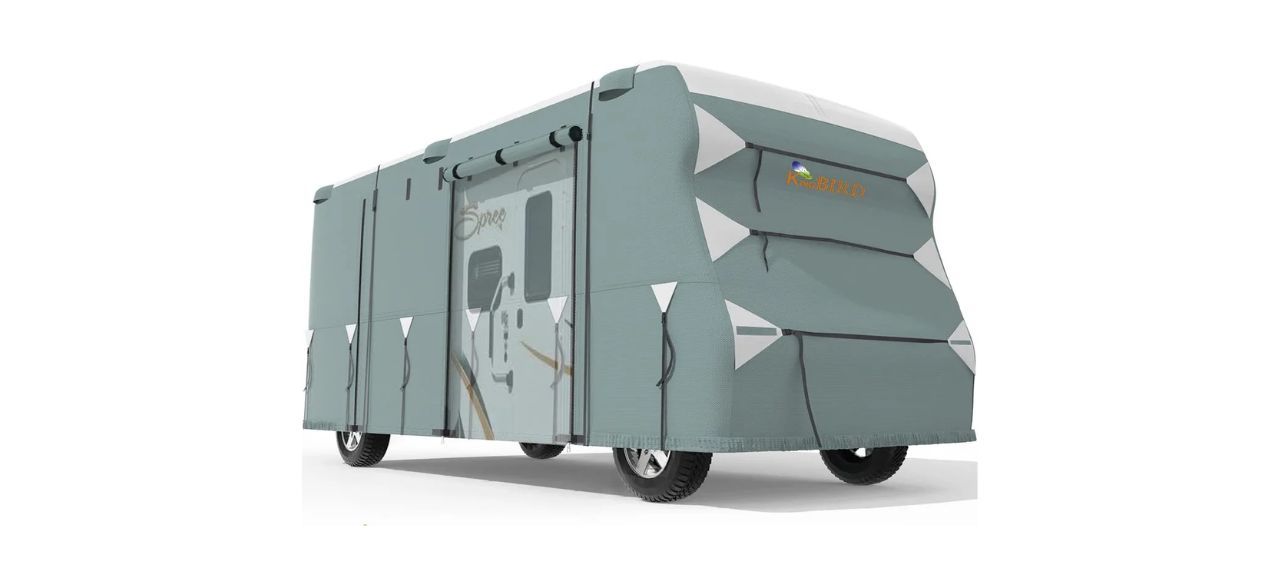 King Bird Upgraded Class-C RV Cover
This all-encompassing cover has a durable five-layer top panel with an anti-UV coating. The sides feature three-ply nonwoven fabric that can withstand rain and snow. It has six air vents on both sides to reduce wind stress.
Sold by Amazon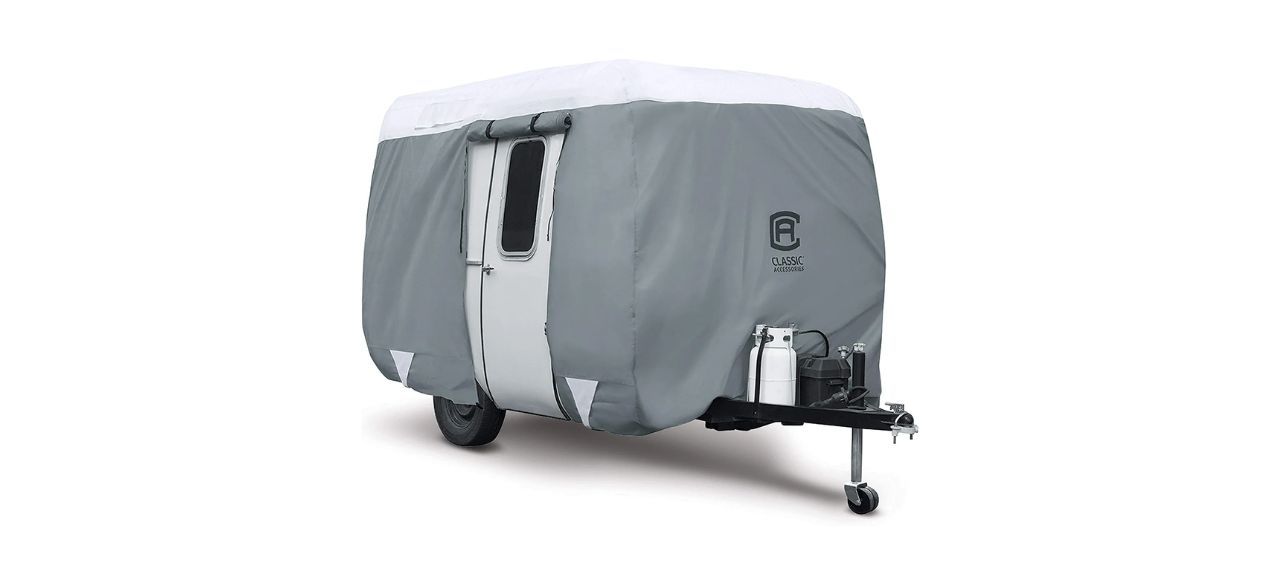 Classic Accessories OverDrive PolyPro 3
It fits molded RV trailers up to 16 feet long, and the top panel is made from thick triple-ply fabric. It has integrated air vents to reduce wind stress and inside moisture, and the corners are reinforced.
Sold by Amazon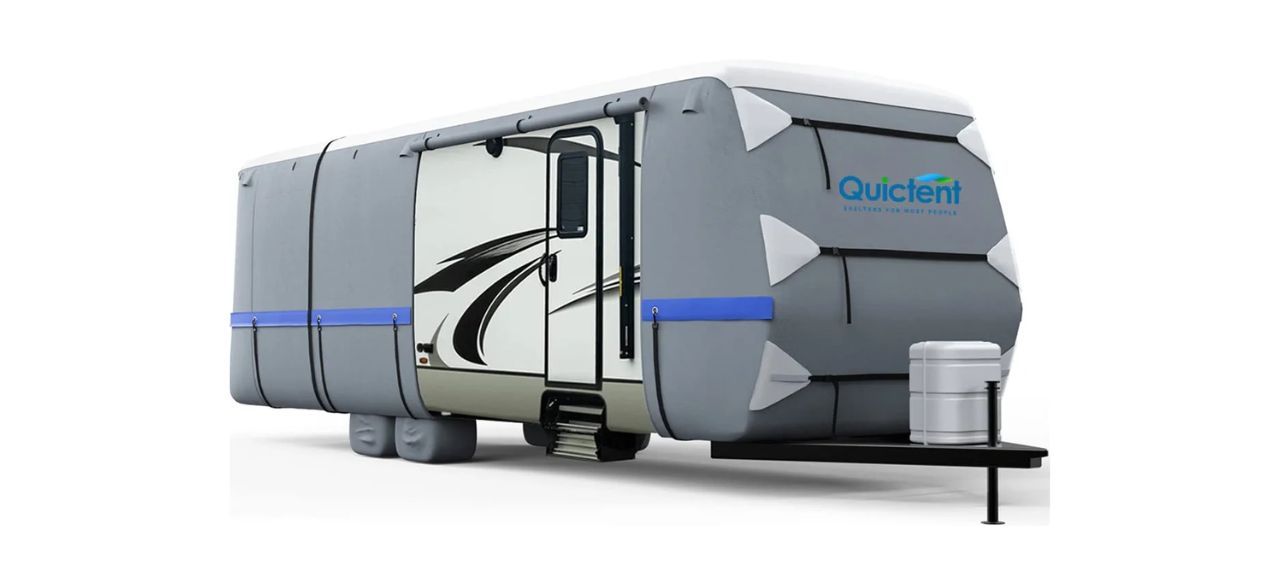 Quictent Upgraded Travel Trailer RV Cover
This durable cover uses six-ply roof panels with four-ply sides. It has two patented buckle straps on each side to keep things where they belong and rollable zipper doors for easy access to the RV.
Sold by Amazon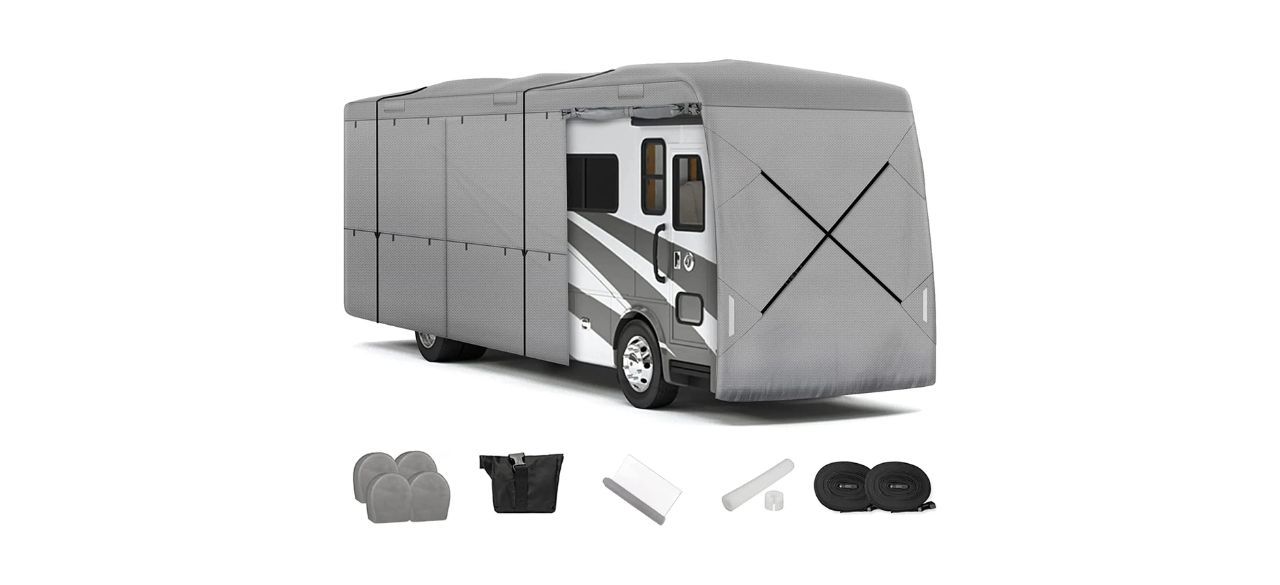 Leader Accessories Windproof Upgraded Class-A RV Cover
This cover has an anti-UV and water-resistant coating, making it perfect for most environments. The top panel has extra-thick five-ply nonwoven fabric, while the side panels are made from 3.8-ounce nonwoven fabric.
Sold by Amazon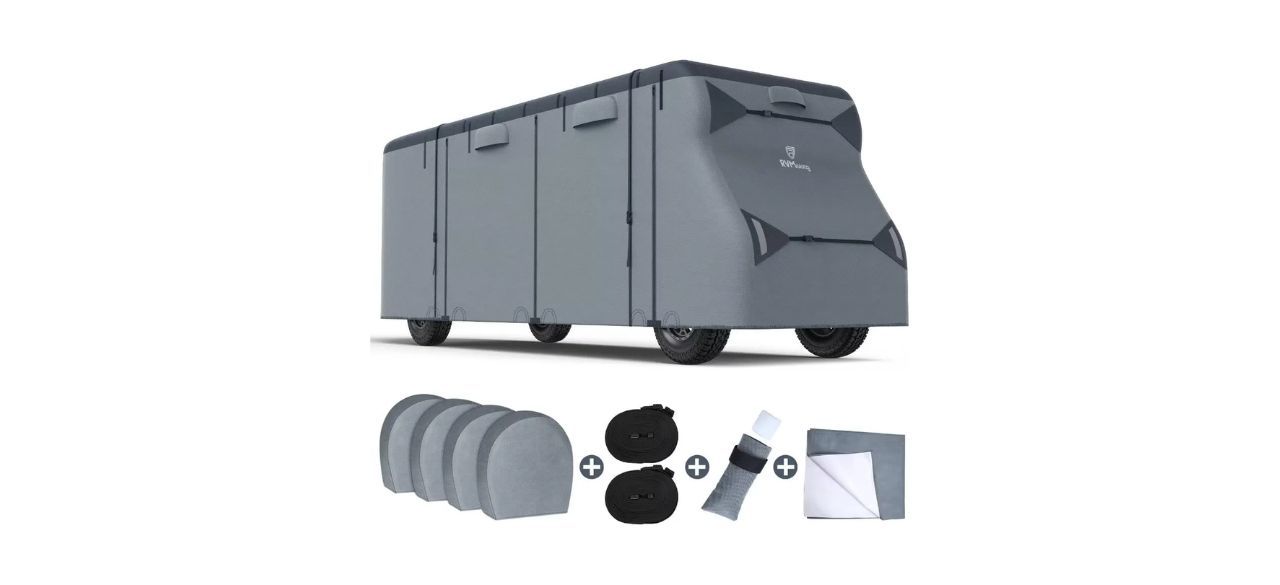 RVMasking 7-Layers Class-C RV Cover
Compatible with vehicles up to 26 feet long, this cover comes with four tire covers, a storage bag and four gutter covers with sponges. It has tear-proof straps, has an anti-UV coating and is waterproof.
Sold by Amazon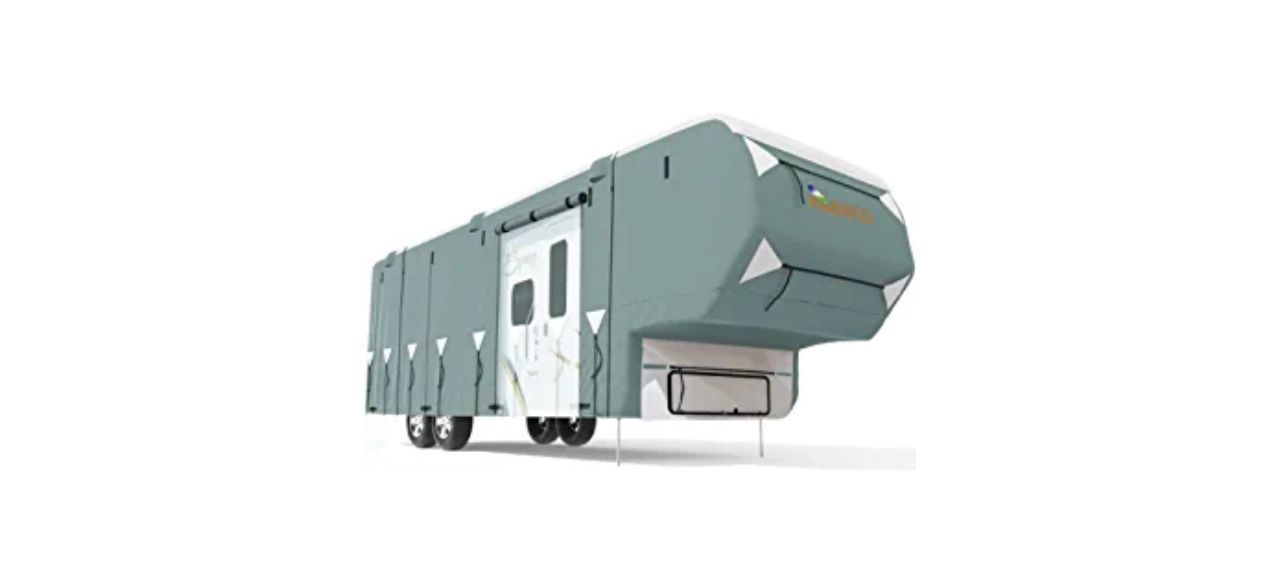 This extra-thick, breathable cover is best suited for RVs up to 37 feet long. The top panel is made from a composite five-layer fabric, while the sides are three-ply nonwoven fabric. It has six air vents on each side, and the rollable zipper doors give easy access to the RV.
Sold by Amazon
Want to shop the best products at the best prices? Check out Daily Deals from BestReviews.
Sign up here to receive the BestReviews weekly newsletter for useful advice on new products and noteworthy deals.
Charlie Fripp writes for BestReviews. BestReviews has helped millions of consumers simplify their purchasing decisions, saving them time and money.
BestReviews spends thousands of hours researching, analyzing, and testing products to recommend the best picks for most consumers.
Copyright 2023 BestReviews, a Nexstar company. All rights reserved.