This is an archived article and the information in the article may be outdated. Please look at the time stamp on the story to see when it was last updated.
HUNTSVILLE, Ala. (WHNT) -- When seconds can mean the difference between life and death first responders have a new way to save lives, blood carried on board the MedFlight helicopter.
Huntsville based MedFlight is the first helicopter in Alabama to carry blood on every flight and one of only a relatively small number of air medical programs in the country to do so.
Monday, MedFlight began carrying two units of life-saving  O- blood on board every single flight. This means life-saving blood can be brought to the scene of an accident or injury where it can be started in the field; not having to wait until patient arrival at a hospital.
MedFlight is the only Air Method's community-based air ambulance in the southeast to carry blood on-board every flight.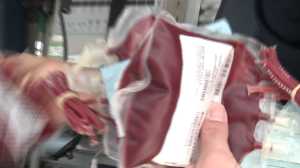 With success of this pilot program MedFlight officials say they plan to expand carrying blood on more Air Methods aircraft statewide. This program is a pilot program that has taken months of planning to achieve.
One of the leading causes of pre-hospital death from trauma is uncontrolled hemorrhage so when minutes mean life or death this blood could literally save someone's life. Huntsville Hospital trama surgeons say this will make their job easier.
"Timing is everything when you are trying to save a person's life and this will give us valuable seconds making our job easier once we get the patient in the ER," surgeon Rony Najjar told WHNT News 19 Friday.
MedFlight, Huntsville Hospital's air ambulance service, is owned and operated by Air Methods Corporation, The World's Largest Provider of Air Medical Services.
MedFlight began operations at Huntsville Hospital in April of 1984 and has been serving the Tennessee Valley now for over 29 years.