This is an archived article and the information in the article may be outdated. Please look at the time stamp on the story to see when it was last updated.
HUNTSVILLE, Ala. (WHNT) — "Everyday is Veterans Day inside here," Veterans Memorial Museum founder Randy Withrow says.
The museum, housed inside an old airplane hangar off Airport Road in Huntsville, is the state's official Veterans Museum and the collection it contains is rivaled only by the Smithsonian.
Thousands of items are housed inside the small building that is bursting at the seams.
Volunteer Larry Bayer says they could easily double the space and still be packed.
"We are shoehorned in here, if we add something we almost always have to take something else out," Bayer said.
Volunteers have big dreams for the museum.   They want to move forward with a gameplan to add thousands of feet of new exhibit space and an area where they can work on the antique war machines.
"We hope to renovate and update it, make it more professional and modern for people to come enjoy," Withrow told WHNT News 19 Tuesday.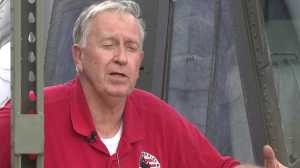 There has been some talk in the community about moving the entire museum to another location completely.  Some have advocated for a plot of land close to the U.S. Space and Rocket Center. But Withrow says that is a very lofty dream.  He is focused on raising funds to update the building they currently call home.
"We could use more but we will do with what we have, but like I said we would love to have more to do it with," Bayer added.
Volunteers estimate the cost to add more space and renovate the building would be somewhere around two million dollars, money that would need to be private donations since the facility currently does not receive tax dollars.
If you would like to know more information about how you can help make the museum better click here