This is an archived article and the information in the article may be outdated. Please look at the time stamp on the story to see when it was last updated.
MARSHALL COUNTY, Ala. (WHNT) -- A man and woman are charged following a marijuana bust on Wednesday in Arab.
Deputies served a search warrant at a house on Mary Jo Isom Lane and seized more than a dozen marijuana plants as well as special equipment used to grow them.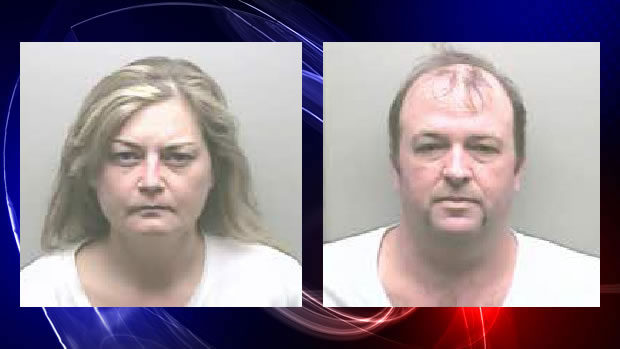 Tammy Jean Bonds, 44, and Grady Leon Bonds, Jr., 39 are charged with unlawful manufacturing of a controlled substance and unlawful distribution of a controlled substance.
"This particular subject has been selling and distributing marijuana in the Arab area for several months now," Sheriff Scott Walls.
"Kind of an ongoing operation that we've been hearing about but hadn't been able to locate it until recently."
Investigators got a tip about an indoor hydroponic grow operation and Walls said they identified the correct house Wednesday morning.
Investigators said the Bonds had converted a bedroom for the operation.
"It's a pretty elaborate setup with a heating and cooling system, vent fans," Sheriff Scott Walls said.
There were tubes and pipes, chemicals and fertilizers, and tents and boxes with special lights in them which investigators had to pull apart and break down.  It was not a case of simply carrying out a couple of potted plants.
"The elaborate operation has to be disassembled and everything removed from the house, and all the evidence tagged and photographed," said Sheriff Walls.  "It's a pretty lengthy process.  We've been here several hours already and we'll probably be here until after dark."
Deputies seized more than a dozen mason jars of pot ready for sale.
Walls said he did not know the street value of the drugs.
"It's going to be tens of thousands of dollars and of course there's many many plants involved in this particular operation," he said.
Investigators found a range of plants from fully-grown to tiny seedlings and containers used for fertilization.
They also seized three rifles and animal control came to rescue two dogs from the home.
Deputies said there was a third person who was being questioned as a person of interest, and the sheriff said there may be more arrests as the investigation continues.
One neighbor who drove past said he was not surprised to learn there was suspicious activity going on in the home.
He said he noticed a lot of big expensive purchases lately including cars, a four-wheeler, and even a home tanning booth in the garage.
Seized Marijuana Plants (WHNT: Robert Richardson, WHNT)

Jars of Marijuana (Photo: Robert Richardson, WHNT)

Marijuana Seized (Photo: Robert Richardson, WHNT)

Marijuana Seized (Photo: Robert Richardson, WHNT)

HVAC System for the Marijuana

Home on Mary Jo Isom Lane (Photo: Robert Richardson, WHNT)

Home on Mary Jo Isom Lane (Photo: Robert Richardson, WHNT)