This is an archived article and the information in the article may be outdated. Please look at the time stamp on the story to see when it was last updated.
HUNTSVILLE, Ala. – The National Weather Service has canceled the Tropical Storm Warning that was issued for Cullman, DeKalb, Jackson, Madison, Marshall and Morgan counties. A Wind Advisory is in effect for the entire Tennessee Valley at this time.
The latest update follows the decreased wind threat from the previous assessment, which is what had triggered the Tropical Storm Warning late Sunday night. There is still the potential for wind gusts up to 35-45 mph from Monday evening through Tuesday morning.
A Tropical Storm Warning is still in effect for Eastern Alabama. That warning extends as far north as Cherokee and Etowah Counties: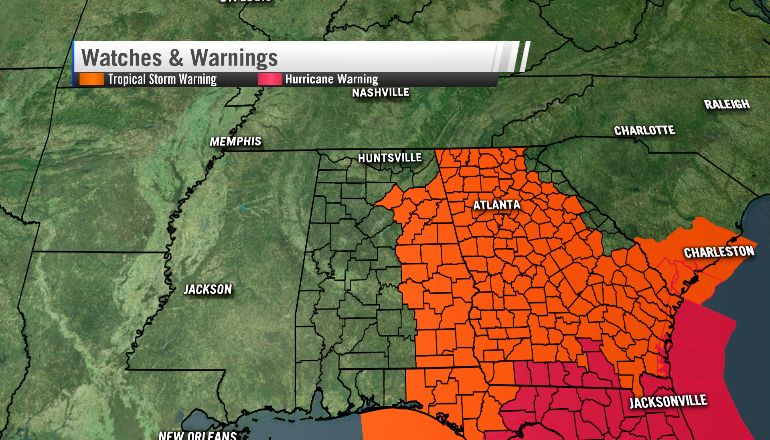 It's through the area extending from South/Central Georgia into Central/Eastern Alabama that Irma is expected to maintain Tropical Storm strength. The storm will likely spin down to a tropical depression as it approaches the Tennessee Valley.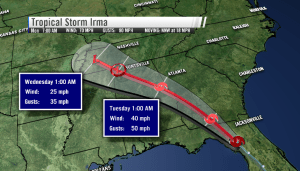 Irma's Timeline through the Tennessee Valley:
Monday Morning: We expect mainly dry conditions to start us off Monday morning, with light showers moving in. Winds could already be gusting up to 25 mph Monday morning, so make sure any patio furniture or lawn decorations have been brought in.
Monday Afternoon/Evening: Winds will continue to pick up. Wind gusts could blow up to 35-45 mph through Monday afternoon. Rain will start spreading over the Valley Monday evening, becoming heavier as we head into the overnight hours.
Monday night through Tuesday morning: This is the time frame in which what's left of Irma will be moving through. Locally heavy rainfall and wind gusts up to 40-50 mph will be possible, although wind gusts over 50 mph will be isolated to ridge tops. Rainfall could raise concerns about flash flooding by Tuesday morning. as 2-3 inches of rain is expected.
Tuesday afternoon/evening: Wind gusts up to 25 mph will still be possible through the day, along with areas of steady rain. Conditions will begin to improve by Tuesday evening.