This is an archived article and the information in the article may be outdated. Please look at the time stamp on the story to see when it was last updated.
HUNTSVILLE, Ala. (WHNT) – Nearly 120 groups are signed up to be in the 37th Annual Ellen McAnelly Memorial St. Patrick's Day Parade.  That's the most in history!
There's a little rain in the forecast, but don't let that stop you! Just bring an umbrella in case you need it.  WHNT News 19 will be there – we'll be wearing our green and we hope you will too!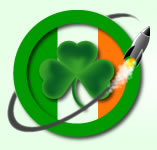 Stephen Stokes, Mayor of Greystones, Ireland, visited WHNT News 19 on Wednesday to appear on our noon newscast with Lisa Bollinger of the Irish Society of North Alabama.
Stokes is the Grand Marshal of this year's parade. The Irish Society of North Alabama organizes the event every year.
Stokes arrived in Huntsville on Tuesday and says he's enjoying his visit very much. It's his second visit to Alabama, and he spent much of his childhood in the United States.
"I absolutely love Huntsville from what I've seen. The welcome has been extremely friendly," said Stokes. "Everybody's been very gracious, and I'm looking forward to bringing back to Ireland about all the great reasons people should come and visit Huntsville."
The St. Patrick's Day Parade starts at 11:30 a.m.  It takes a one-mile route around downtown Huntsville, near the courthouse.  Check the official route in the map below, and click here for more details about the parade.
[googlemaps https://maps.google.com/maps/ms?ie=UTF8&hl=en&msa=0&msid=205153362648082033131.00049a795a84f61858b74&source=embed&t=m&ll=34.731526,-86.586213&spn=0.012344,0.021458&z=15&output=embed&w=630&h=350]