This is an archived article and the information in the article may be outdated. Please look at the time stamp on the story to see when it was last updated.
Madison resident Jonny Payne is a retired Air Force test flight engineer and still works with the military today.  Four of his Air Force unit comrades flew in Space Shuttle missions.  And his cat, Little Man, is widely known in military circles and is the mascot for many.  Payne has penned a book chronicling his life and how Little Man impacted it.
This is the true story of a military man's can-do mentality toward achieving his goals, whether it's flying missions, restoring an old car, or putting all questions of cost aside in an attempt to help a dear friend survive the most frightening and challenging period of his life.
It's a heartfelt story that any animal lover will love.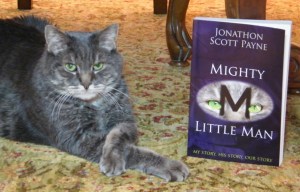 Mr. Payne  will have a book signing at Catisfaction Cat Clinic, 9290 Madison Boulevard, Suite E in Madison, on Tuesday October 7th from 4 p.m. to 5:30 p.m.
Click here for more information about the book and it's author.