This is an archived article and the information in the article may be outdated. Please look at the time stamp on the story to see when it was last updated.
The Church of the Nativity  in Huntsville is delighted to host Icons in Transformation, an exhibition featuring approximately 90 pieces created by acclaimed Russian contemporary artist Ludmila Pawlowska.
This remarkable exhibition has toured cathedrals and museums in both Europe and the United States and will be on display at Nativity, 208 Eustis Avenue, February 23rd through April 20th.
Pawlowska is an internationally-acclaimed artist for her iconic/deeply spiritual feeling work; and Huntsville is the only location where this exhibit will be touring in the entire state of Alabama.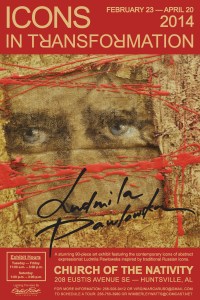 As its only venue in Alabama, the Church of Nativity offers this exhibition as a gift to the community.  Weekday hours are Tuesday through Friday, 11:00 a.m. to 3:00 p.m.   Saturday hours are 1:00 p.m. to 3:00 p.m. Docents will be present to answer questions and guide the guests.  Group tours can be arranged by calling Wimberley Watts at (256)755-3980 or by email to wimberleywatts@comcast.net.
Click here for more information or call (256) 508-3980.