This is an archived article and the information in the article may be outdated. Please look at the time stamp on the story to see when it was last updated.
The Heritage Quilters of Huntsville are hosting the Fanfare 2013 Quilt Show at the Von Braun Center's East Hall on October 11th through 13th.
Over 200 member-made quilts/quilted garments, reflecting traditional and modern styles, as well as art quilts will be on display.  Nineteen vendors will be on-hand offering basic and unique quilting supplies and a wide variety of items including estate sale items, cottons, woolens, embroidery, feed sack fabrics and quilts, books, and quilting tools.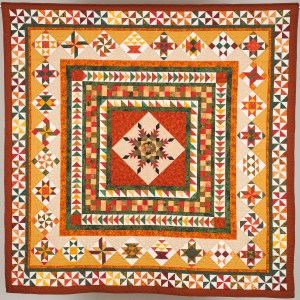 Purchase a raffle ticket for only $1 for a chance to win this beautiful quilt "Fall Fanfare"!
Tickets are $8.00 (children are free) and cover all three days of the show.  They are available at the East Hall entrance.  Hours are 10:00am to 6:00 pm on Friday and Saturday Oct 11th and 12th, Noon to 4:00pm on Sunday, October 13.
Click here for more information on the Fanfare 2013 Quilt Show and Heritage Quilters of Huntsville.