This is an archived article and the information in the article may be outdated. Please look at the time stamp on the story to see when it was last updated.
RUSSELLVILLE, Ala. (WHNT) – Over the years there have been several sightings of a person believe to be Yu Chin Goodson, but those leads always turned cold.
Goodson was last seen leaving a halfway house on Norton Street in Russellville on March 25, 2005.  She was 57 at the time.  When she didn't return for dinner, the home and police started a massive search for her.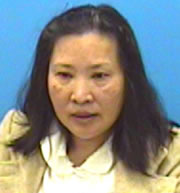 The home specialized in treating patients with mental disabilities.  Goodson did not have medication with her, which she requires daily.
"There's always hope until we can verify a person is actually deceased there's always hope to find that person alive, and we hope we can find Ms. Goodson alive and well," said Russellville detective Scotty Lowery.
A witness said a woman matching Goodson's description was seen getting into a car headed towards Decatur, Ala.
Lowery said detectives checked several leads, but none were successful.
Then, the case was featured on America's Most Wanted Missing Person's Hotline.
Some more tips came in.  They were all pointing in the direction of the Huntsville area, specifically around Parkway Place Mall.
But still, police could never track down the person matching Goodson's description.
"It is frustrating.  You get a tip like that, you get someone who is so adamant that they feel like this is really the lady we're looking for and then whenever an officer gets in the area over there and can't find her, it kind of lets the wind out of your sails," said Detective Lowery.
Since 2005 investigators say there's been no activity on Goodson's bank accounts.  Her driver's license never got renewed, and her prescriptions were never filled.
She just vanished into thin air.
If you have any information on Yu Goodson, or spot someone who could be her, please stay with her and call your local police or sheriff's office.  Or, call the Russellville Police Department at (256) 332-2230.