This is an archived article and the information in the article may be outdated. Please look at the time stamp on the story to see when it was last updated.
(CNN) – A winter storm is bringing snow and ice to a broad swath of the South, where snow plows and salt trucks are nearly as rare as bikinis in a Minnesota winter.
And while Northerners may laugh at their Southern friends' panic over a dusting of snow, the threat is real: With few resources to battle snow and ice, public works crews may have a difficult time keeping up with any significant accumulation.
Add to that the fact that millions of Southern drivers aren't used to driving on snow or ice, and things could get tricky fast.
"I'm asking everybody, I know it's going to be pretty if we get snow; it's monumental; it's great," Montgomery County, Alabama, Commissioner Reed Ingram told CNN affiliate WAKA. "But do not get out there and ride in it."
Snowflakes like you've never seen them before
It's not just the South is shuddering. Midwesterners and others more accustomed to bitter weather are, too.
All told, about 140 million people in 34 states are under some sort of winter weather warning or advisory, from snow and ice to bitterly cold wind chills, according to CNN meteorologist Brandon Miller.
And, of course, air travel turned into a mess across the country.
Airlines on Tuesday canceled more than 3,000 flights within, into or out of the United States, with hundreds each at Hartsfield-Jackson Atlanta International Airport, Houston's George Bush International Airport, Chicago O'Hare International Airport and Louis Armstrong New Orleans International Airport, according to FlightAware.com, which tracks cancellations due to both weather and mechanical problems.
Here's what is going on across the country:
Texas
Sleet and freezing rain began falling early Tuesday in East Texas, along with Louisiana the first area to be affected by the winter storm.
But what had been a winter storm warning in the Houston area was downgraded early Tuesday to a winter weather advisory.
Still, Houston shut all public services not related to public safety, and the city's school district — the state's largest — was closed.
Louisiana
New Orleans and its suburbs could get a half-inch of snow and ice by Tuesday evening, forecasters said. Parishes farther north could see 3 inches, with temperatures plunging into the single digits on Wednesday, the National Weather Service said.
"This town is shutting down" on Tuesday, New Orleans cab driver August Delaney said Monday. "Some bridges are going to shut down. Schools are closed. We are not going to put our kids on school buses."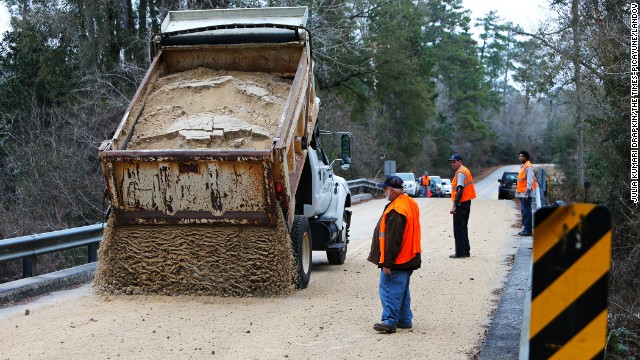 Photos: Freezing temperatures sweep U.S.
Mayor Mitch Landrieu declared a state of emergency and warned residents to remember what happened when temperatures dipped toward the freezing mark less than a week ago.
"We had bridges that were frozen over," he said. "We had accidents on those bridges, a fairly large pileup on the Green Bridge. Sometime not long ago, when they had a similar event, there were a thousand crashes, and there were fatalities, and we want to make sure that we avoid all of that."
Mississippi
State officials say that 4 inches of snow could fall in south-central Mississippi, and the Gulf Coast could see three-quarters of an inch.
Robert Latham, the state's emergency management director, warned residents to expect power outages as well.
"We're looking at a part of the state that has a large number of pine trees," Latham said. "I can tell you that as ice accumulates on pine trees, limbs will break. Trees will fall. Power will be out."
Alabama
Schools in Montgomery, the state capital, and Birmingham, Alabama's largest city, closed Tuesday.
In Montgomery, as much as 3 inches of snow may fall. Gov. Robert Bentley on Monday declared a state of emergency for all Alabama counties and activated the Alabama National Guard to be on standby.
He also delayed a special election to fill three state House vacancies, WAKA reported.
And grocery stores were selling out of some items, including canned goods, batteries and water, the station said.
"I'm getting everything I need to do today, because it is going to be dangerous out there," Dominique Macon told WAKA as she stocked up Monday on essentials. "The roads are going to be slippery, and stuff is going on."
Georgia
Downtown Atlanta was sporting a white veneer Tuesday afternoon, with much of the traffic on city streets in gridlock and some 2 inches of snow expected.
The city has spent more than $1 million on snow-removal equipment since 2011, city Public Works Director Richard Mendoza told CNN affiliate WSB. That's when a storm that Northern cities would have shrugged off in a day shut much of the city for nearly a week.
"You prepare for the worst and hope for the best," Mendoza said. "We anticipate having up to 40 crew members on 12-hour shifts."
Farther south, in Macon, where about 3 inches of snow could fall,Robins Air Force Base shut for all but mission-essential personnel, and students were told to stay home on Tuesday and Wednesday.
In nearby Monroe County, CNN affiliate WMAZ reported, public works crews were giving their winter weather fleet the once-over.
It's not an onerous task. In a sign of just how rare this sort of weather is, there's just one salt spreader that doesn't get used much: the 1978 two-ton Ford F-800 has been driven 30,000 miles.
"It's old, but it's in good shape. It's ready to go," Roads Superintendent Sid Banks said Tuesday. "We've done this several times."
The truck won't try to cover all 450 miles of roadway in the county of 25,000 residents, but will focus its payload on the most vulnerable areas, he said. "We just do the places that might have black ice, and then we do the bridges."
The county has two primary drivers assigned to the truck who will rotate duties until the job is done, Banks said. "We just stay on duty until the disaster is over, until it's clear and safe."
Though the county has no plows, Banks said that the threat of snow did not concern him.
"I've been here 20 years, been through several ice storms, and we've always been able to handle it with the equipment that we have," he said. "I might get fooled, but the snow is not a tremendous deal. We can deal with snow a lot better than we can ice."
Farther north
Much of the northern Plains, Midwest and Northeast was shivering as daytime high temperatures were expected to be 10 to 30 degrees below normal through Wednesday, the National Weather Service said.
Chicago's temperature Tuesday could reach 3 degrees, but the wind chill in the Windy City will probably make it feel like minus-30 degrees.
In Wisconsin, the state Department of Transportation urged people to avoid driving.
In Milwaukee, two motorists seconded that advice.
"It's going to be pure ice. It's all fluffy and light snow like this, and it's going to melt down — going to be a mess," Gary Lukowitz told CNN affiliate WITI.
"Even though you see the streets are plowed and it's still slippery out there, still a lot of wet snow on the ground, still freezing and cars are still slipping around," Adam Bernstein said.
And Minnesota authorities advised everyone to stay off the roads in the southern and western parts of the state.
How are you staying warm in this cold weather? Are you off work? Are your children out of school? Are you eating or drinking something special? Let us know how you're fighting the cold indoors on our Facebook page. We'll share some of your comments in the News Pulse at 9.