This is an archived article and the information in the article may be outdated. Please look at the time stamp on the story to see when it was last updated.
"A change would do you good." Sheryl Crow sang those lyrics in 1996 and that's what life is all about — change.
I'm looking forward to a great new beginning in my work life. I am leaving the only thing I've ever done professionally for something brand new. I've been a journalist for 20 years, since I graduated from the University of Alabama.
For the last 17 years I've worked at WHNT News 19. You've seen me on TV a little bit — my name is Claire Aiello and I've been our Interactive Content Manager since 2005, overseeing our website, apps and social media channels. Prior to this role I produced several newscasts, including the morning news, 4:30 p.m. and 5 p.m. This is a wonderful company and I've been so fortunate to work alongside true friends.
My favorite part of this job has been helping people. That's what we're put on this Earth to do, right? I remember a story several years ago where a woman called us — she was in severe pain from an abscessed tooth. She didn't have dental insurance and this tooth was possibly going to kill her. A reporter and I helped find an oral surgeon who would take her free of charge. She didn't have transportation, so we also found a cab company to give her a ride from Decatur to Huntsville at no cost. We were so thankful to the surgeon and the cab company — we were just conduits to help bring it together. That story has stuck with me over the years.
Other things have stuck with me. Severe weather, especially April 27, 2011. I will never forget that event. It wasn't one line of storms, it was multiple lines, violent lines that claimed 240 lives across our state. We haven't seen anything like that since, and I pray we never will again. But I urge you to be prepared and listen to the meteorologists. They never want to scare you. They aren't interested in creating panic. They want to help you plan ahead and it's up to you to take precautions in your home and make sure your family knows what to do. Please don't ignore them and say "it won't happen to me." Have several ways to get warnings.
I've honestly stayed at this job this long because of the terrific people at WHNT. They really are the best thing about this place. The anchors you see on TV and social media are just like you and me. No egos, like in other markets. Every single one of them work hard on TV and behind the scenes getting things ready for the news. There are also many people behind the scenes you don't see who also pull a heavy load. I've mostly been in that group, but I've dabbled in some on-camera appearances.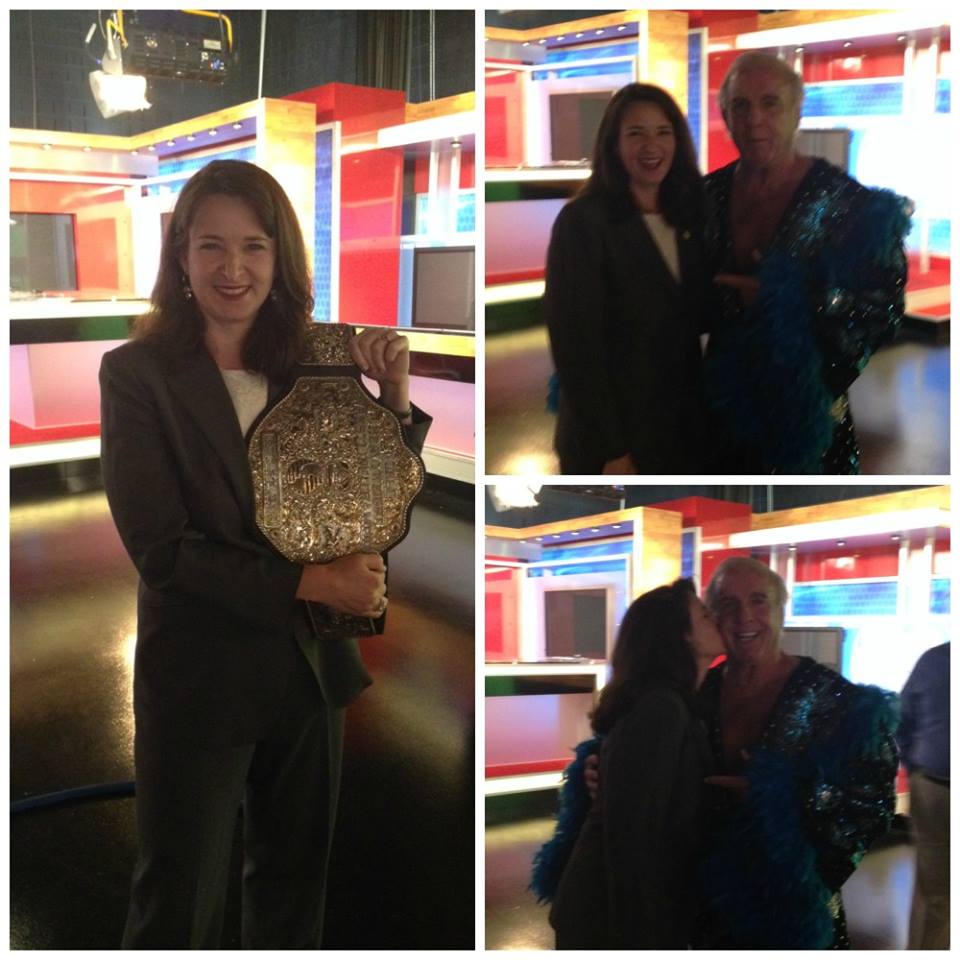 There really are no egos here, but that doesn't mean our anchors aren't funny. Greg Screws offered me lots of autographs to take to my next job. "It might mean an early bonus," he said.
Speaking of autographs, I got to meet Ric Flair a few years ago! I will be framing that for my new office. I was at the federal courthouse a few blocks away to cover a hearing and my boss emailed me… urged me to have someone sub for me for a few minutes. She said I wouldn't believe who was at the station to shoot a commercial. She was right! If you know me, you know one of my nicknames is "Claire Flair" because I got a kick out of watching wrestling in college with my fellow disc jockeys from WVUA 90.7 FM at the University of Alabama. The "Nature Boy" was my favorite. WOOOO!
So, what's my new venture? I'm actually moving just next door.
In mid-May I will begin a new role at the Chamber of Commerce of Huntsville/Madison County. Seriously – you can see the building from the back parking lot of WHNT. My commute won't change and I will see my news friends as we announce jobs and new initiatives. You can't beat that!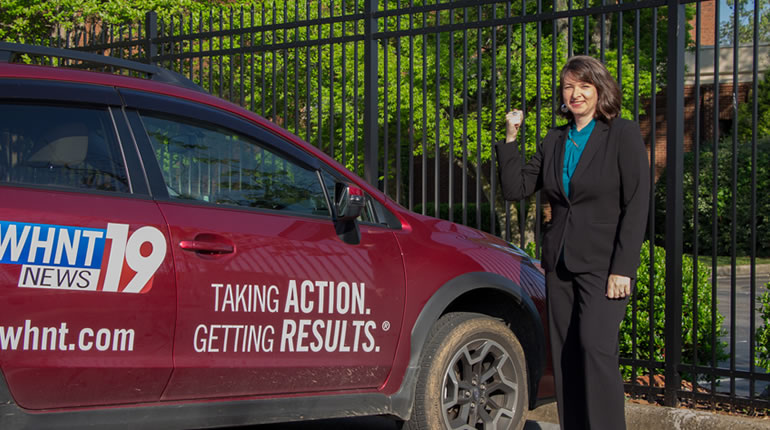 I'll be joining the Chamber's Government Affairs Team. Mike Ward heads up this division and interacts with city, county, state and Congressional representatives to advocate policies and legislation that support Huntsville and Madison County and promote our economic growth. We'll also work to protect and strengthen federal programs impacting the local economy.
I love Huntsville. My husband Joey and I are proud to raise our children here and I'm thrilled to continue promoting our great city in this way.
My last day at WHNT News 19 is April 26, and I start my new job at the Chamber on May 15.
See you around, friends!