This is an archived article and the information in the article may be outdated. Please look at the time stamp on the story to see when it was last updated.
One of the cool things about being a newspaper reporter was "rumpled" was kind of built-in to the job description, so I was a natural.
Last fall, I was fortunate enough to get hired by WHNT News 19 for a reporting job. In the job interview I pointed out – as if I needed to – that I was a bit, uh, rumpled for TV. Everybody at the station, let's be honest, is good-looking, so … Denise Vickers, the news director, just kind of grinned in response and said, "We can take care of that."
Little did I know.
I was rumpled a few times on the air, and even I could see I needed an upgrade.
It was a full afternoon.
It involved like three kinds of make-up, some hair wax, some new duds and an ongoing discussion about my beard. By the end I was "made over." I felt kind of ridiculous doing it, but a lot of nice people worked hard to sharpen me up from my default khakis and a blue shirt.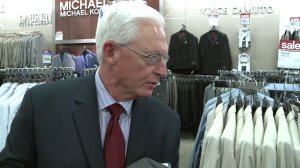 I'm grateful for their efforts. Any errors in applying hair wax, or foundation, are my own. Hopefully our viewers appreciate the change. I do.
EDITOR'S NOTE: WHNT News 19 would like to thank Jeff Johnson and Mary Zingarelli at Terrame for their help with Brian's hair and makeup.  We'd also like to thank Greg Hill at Belk's Bridge Street location for his expertise and recommendations on the clothing.