This is an archived article and the information in the article may be outdated. Please look at the time stamp on the story to see when it was last updated.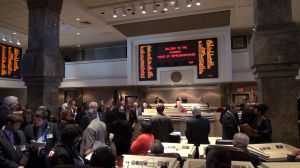 HUNTSVILLE, Ala. (WHNT) – Tuesday marked the first day of the Alabama legislative session in Montgomery. It's one – due to re-elections and the need to keep the political landscape on an even keel – that could be abbreviated or even considered a 'lame duck' session.
WHNT News 19 consulted our own political analyst about what we can expect in the coming weeks out of the state capitol. Athens State's Dr. Jess Brown says the supposition that incumbent legislative members will not wish to 'stir the pot' so-to-speak is the pervasive expectation of the local 2014 session.
Brown says legislators will want to get in, 'band-aid' again, as it were and pass the budgets, allow members to pass some hyper-local bills that may help boost re-election chances, and then the republican party will want to drive home the values of their conservative base.
"They'll pass one or two bills that remind the voters that the republican majority is the party that's pro-business and the party that will want to fight a little waste, fraud and abuse in government," says Brown.
The political scientist says that may include a couple symbolic, pro-economic development bills - maybe a tax measure or two.
"Then they want to close up shop and go home."
That's the mood in Montgomery, says Brown. He says democrats in the legislature, weak as they may be right now politically, will have incentive to stir up a hornet's nest. They don't, however Brown points out, have the votes to keep the session going. The socially conservative republicans, on the other hand?
"They'll perhaps introduce legislation related to abortion, legislation related to common core, and frankly some other lifestyle hot-button issues."
Brown says though, something tells him if leadership has coalesced around the idea that it's to be an abbreviated session some of those contentious bills - whether social, economic, theological, spiritual, scientific or legal in nature - may never see the light of day.
"Those bills will go in a legislative lockbox and they will not come out for any thorough floor debate or open, transparent debate on the full floor of the senate or the house," Brown predicts.
Brown says if there is to be an abbreviated session with the emphasis on the priorities of the leadership, a particular Madison County legislator will play a big part. Representative Mac McCutcheon, as chairman of the rules committee, would play a key role in implementing that legislative strategy, says Brown.