This is an archived article and the information in the article may be outdated. Please look at the time stamp on the story to see when it was last updated.
After several calls into the station for our Taking Action team, WHNT News 19 looked into the "false advertisement" allegations against Whitt's Barbecue on Monday.
Whitt's Barbecue had posted this advertisement for their 50th anniversary special: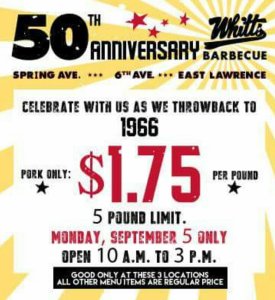 The advertisement promoted that in honor of the establishment's 50th anniversary, they would sell pork barbecue at the price it was held at in 1966 when Whitt's Barbecue opened-- $1.75 per pound, with a 5-pound per person limit. The special would run from 10 a.m. to 3 p.m.
Customers called in claiming that before the special was even scheduled to begin, restaurant employees said they were out of pork.
WHNT News 19 spoke with Mark Whitt, owner of Whitt's Barbecue, to learn what happened.
"Lines into our restaurant and drive-thru started very early," Whitt said. "We were forced to open up early because of the lines. Police were trying to get cars out of the road because they were blocking traffic."
Whitt commented that the restaurant is receiving backlash for taking call-in orders that customers are claiming sold out all of the pork before the special was even scheduled to begin.
"The call-in orders were not a problem because we didn't take as many orders as people think," Whitt said. "It was simply that we opened up early, at around 8 a.m., to assist police in getting customers out of the road. It wasn't that we sold out as soon as we opened, it was that we had to open early."
"We want people to understand this was supposed to be a celebration, a thank you to all of the fine customers we've had through the years," Whitt said as a closing comment. "I'm just really sorry. We wanted it to be a good thing and it backfired for a lot of people."