This is an archived article and the information in the article may be outdated. Please look at the time stamp on the story to see when it was last updated.
WASHINGTON (CNN) - A baby bald eagle hatched at the U.S. National Arboretum in Washington on Friday morning, and a second hatched Sunday.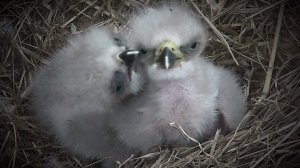 For now, the eaglet, who hatched at around 8:30 a.m. ET, has been named DC2 and is the second eaglet to be raised in this location.
The baby birds' birth was captured live on the DC eagle cam, which was installed last year, allowing bald eagle fans everywhere to keep up with "Mr. President" and "The First Lady," a feathery pair, who nested in a Tulip Poplar tree at the Arboretum in 2014.
According to the American Eagle Foundation, that was the first time a bald eagle nested in that location since 1947. Wildlife observers estimate that the nest stretches five feet wide and three feet deep.
The second eagle, temporarily named DC3, hatched early Sunday.
Dr. Jill Biden congratulated the eagle-parents via Twitter after the announcement of the second hatch.
Congratulations to "Mr. President" and "The First Lady" on the arrival of two eaglets! #DCEagleCam —Jill https://t.co/CNM3WfnK4s

— Dr. Biden -Archived (@DrBiden44) March 20, 2016
"The First Lady" laid the first egg on February 10 and the second on Valentine's Day this year.
The bald eagle was in danger of extinction but was removed from the endangered species list in 2007 after protection efforts, according to the U.S. Fish and Wildlife Service.