This is an archived article and the information in the article may be outdated. Please look at the time stamp on the story to see when it was last updated.
(CBS) –  On a hot, muggy night — in the Amazon city of Manaus — the Americans found themselves fighting an uphill battle from the start. Nearly six minutes into the match, the U.S. defense misplayed a ball in their own end and Portugal took advantage, beating goal keeper Tim Howard to take an early lead.
But Team USA kept the pressure on, just missing on several chances, while Howard did all he could to keep his team within striking distance.
They finally broke through in the second half — midfielder Jermaine Jones curled his shot past the Portuguese keeper to level the score at a goal a piece.
Then in the 81st minute, Captain Clint Dempsey, playing with a broken nose, directed a Graham Zusi pass with his body into the back of the net to give the United States a 2 to 1 lead.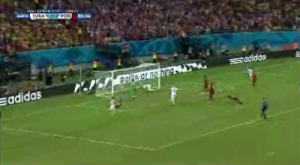 The American defense was able to corral Cristiano Ronaldo for more than 90 minutes – but with less than a minute to go, the world player of the year played a perfect cross to his teammate, who beat goalie Tim Howard to tie the match and stun the United States.
The United States and Portugal tied: 2-2.
Despite the let down, Team USA must now turn its focus to Germany — the second ranked team in the world, and a favorite to win it all.
Team USA coach, Jurgen Klinsmann said, "… I think it was an amazing game. Amazing performance by our guys… So we got to go in and you got to beat Germany.  Get a result against  Germany; that's what we're going to do."