This is an archived article and the information in the article may be outdated. Please look at the time stamp on the story to see when it was last updated.
The family of a Limestone County couple killed in a wreck with an Alabama state trooper is marking the one year anniversary of their deaths with renewed calls for change.
Tuesday evening the family of Jamie Gossett, 38, and his wife, Sarah Gossett, 31, meet at the crash site. They have installed a roadside cross memorial at the spot where the vehicle burst into flames came to rest in a field off of Lucas Ferry Road. Following the collision, the Gossett's vehicle burst into flames.
Trooper J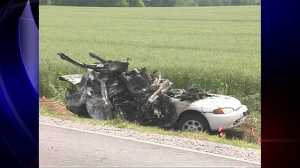 ames Moss was also hurt but recovered from his injuries.
Trooper Moss reportedly was responding to another wreck and witnesses say he was running his emergency lights and siren at the time of the crash. The family has filed a lawsuit against the officer claiming negligence and recklessness. The suit was filed May 6 on behalf of the estate of who died in the April 25 wreck.
According to the suit, trooper Heath Moss was driving south on Lucas Ferry Road around 9:30 a.m. while the Gossetts' were traveling south on the same road. The Gossetts' were waiting to turn left onto Moyer Road.
According to the suit, Moss ran into the back of the Gossetts' vehicle.
Alabama State Troopers declined to comment on the case.
The suit states that Moss was driving "at a dangerous and excessive speed" well above the 45 mph speed limit.
The Gossetts left behind two daughters, 16 and 12, Warren said. The family lived off Alabama 31 in Tanner. Warren said the children are living with family members.
A hearing will be held in Limestone County court in June to address Warren's request for 911 tapes from April 25, access to the trooper's patrol car, Moss' personnel file and any type of recorder used in the vehicle.