This is an archived article and the information in the article may be outdated. Please look at the time stamp on the story to see when it was last updated.
Alabama's state superintendent of schools Eric Mackey today addressed the controversy sparked by a recently rediscovered guidance document from the Alabama State Department of Education suggesting physical education teachers avoid games such as tag, dodgeball and Duck, Duck Goose.
"It is completely up to you which games you play. There is no directive about which games you can and cannot play," Mackey said in Montgomery, al.com reported. "Go back, tell your principals to take care of their own P.E. problems, please."
The document was posted two years ago but was shared by Auburn University Montgomery's Physical Education program on Tuesday.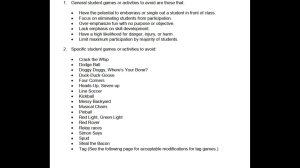 It contains a list of games ALSDE recommends not be played but it is not a ban on the activities themselves.
The same list of games is on Page 200 of the Alabama Physical Education Instruction Guide. The guide was created in 2009 and last updated in 2015 and is the only instruction guide for P.E. teachers on the ALSDE website.