This is an archived article and the information in the article may be outdated. Please look at the time stamp on the story to see when it was last updated.
Any parent will tell you they would give their life to save their child. Some parents weren't given that choice on April 27th of last year when an EF-4 tornado rolled across Tuscaloosa. The storm came with a half mile of going right across the University of Alabama campus. Nine students from there and surrounding colleges were killed in the storm. This is the untold story of a mother of one of those victims.
Almost one month after the deadly tornado, Lars Anderson wrote a story for Sports Illustrated that focused on how Alabama athletes were helping their community recover after the storm. The article mentioned how members of the Alabama baseball team walked up to a mother who had lost her daughter across the street from where one of the players lived and said, "We're so sorry, and is there anything we can do?" And she said, "I want that dress."
That mother was Ashley Mims. Her daughter Loryn and two of her friends, Danielle Downs and Will Stevens of Priceville, were killed.  All Ashley wanted from the rubble of what was once her daughter's home was the little white dress that Loryn had worn to Easter services several days earlier.
During a recent visit to Tuscaloosa, we talked with Ashley.
"I wanted that dress on her. She was supposed to walk down the aisle at that church one day in white. I wanted that dress, it was the perfect little white dress, on her when she was buried at that church."
Loryn wore the dress when her family took photographs on Easter Sunday before she headed back to Tuscaloosa.  Ashley remembers the moment when one of the baseball players found the dress in the rubble.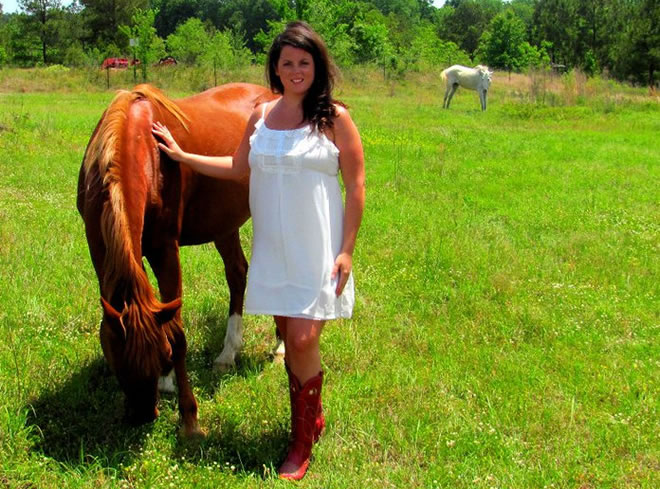 "I was just overcome at that point. I just had to sit down by the edge of the road and take a few deep breaths and have a minute because I couldn't really believe we were here looking for that white dress," Mims said.
With tears in her eyes, Ashley continued, "She was in church on Sunday in that dress and then a week later, we had her visitation on Sunday in that dress."
A year later, Ashley walks across the campus where Loryn was supposed to start classes last fall and says, "A part of us is gone forever."
Gone, but not forgotten. Loryn is making her mark at UA just like her father Shannon Brown who played on the 1992 National Championship football team and whose foot and hand print are immortalized in concrete in the shadow of Denny Chimes. After her death, her families established the Loryn Alexandria Brown Memorial Scholarship so other students could realize their dream of going to college.  And while Loryn never attended a class at Alabama, she's leaving her footprints on campus just like her daddy.
As Ashley pointed out, "Her name, her dreams, her hopes, everything she wanted to do will be carried on forever."
The first recipient for that scholarship has been chosen.  Kelsi Johnson, a graduating senior from Wetumpka High School will start classes at Alabama this fall.
If you would like to donate to the Loryn Alexandria Brown Memorial Scholarship, you can mail a check to:
National Alumni Association Endowed Scholarship Program
P.O. Box 861928
Tuscaloosa, AL 35486