This is an archived article and the information in the article may be outdated. Please look at the time stamp on the story to see when it was last updated.
MADISON COUNTY. Ala. - Another veterans day has come and gone. But this one will be remembered for a long time by a retired sailor and a third grader, thanks to a school project.
Several hands went up when Samantha Maynor asked her third-grade class at Riverton Elementary, "Who would like to share one thing they learned from their veteran when you did this?" The assignment was simple. Find a veteran and have a conversation. "Maybe they knew them. Maybe they didn't" Maynor remembers. "And in this case, it was someone they didn't even know."
Vincent Cosby remembers "I had to ask him how many years he was he in the military and what kind of branch he was in and what was his most memorable time of his life." He met his veteran by chance at a restaurant. He was there eating breakfast with his parents. So were George Smith and his wife.
George was easy to spot. He was wearing a retired Navy ball cap. Vincent's mom started the conversation but he had to ask George the questions. When I asked the retired Navy seaman how it made him feel that an eight-year-old was asking about his service to our country, he smiled and said, "Kinda proud due to the fact that we had a young man that really wanted to know about my past." George was in the Navy years serving from Vietnam to Desert Storm.
George's wife Savana wrote a note and sent it to Vincent at school. "Oh I remember tearing up and crying as I'm showing it to Vincent," Samantha Mayor said. "And I pulled him over to my desk and I read it out loud to him."
Savana was moved to tears as well. She read part of it to us including the last line that said, "What an honor this was for Randy after being retired for 25 years and thanks to Vincent, he had this wonderful experience."
It was much better than the one he had when leaving to fight a war. "I got spit on, got cursed at and I was just a young seaman at the time," George recalls. But times have changed. "The last few years I've actually got a lot of people come up to me and say thank you to me," he said with a smile.
The world is also different. "I think all young men and young women should learn about the past," he said. "That way they can understand their future a lot better." When I asked him if he thought we were in pretty good shape with kids like Vincent, he simply said, "Yes, I do."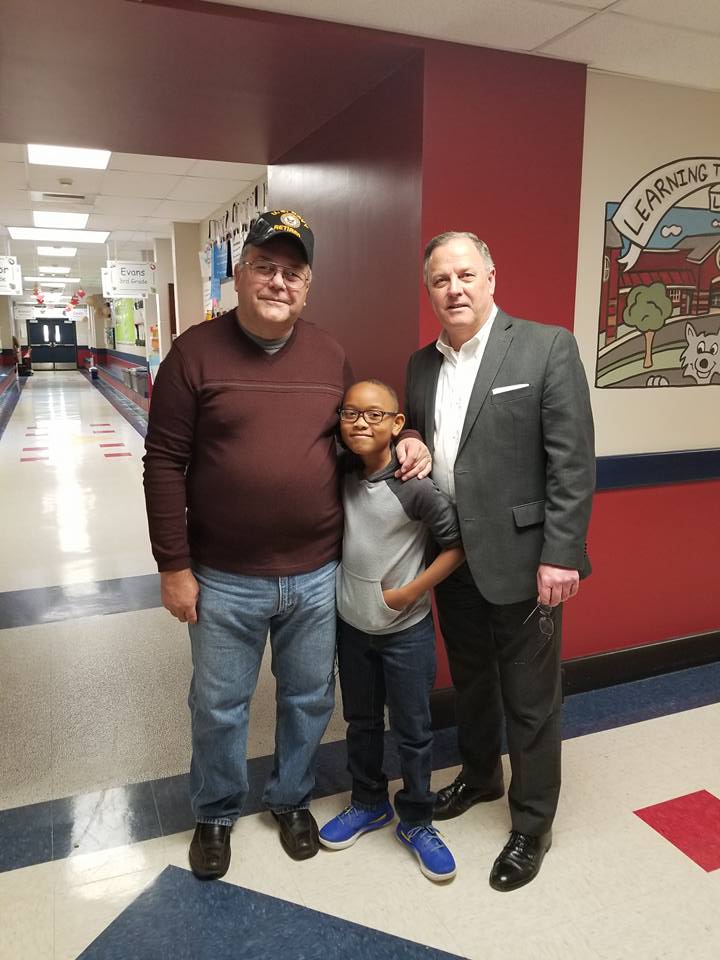 George and his wife were invited to visit the kids at school for this year's Veterans Day program. "They were just thrilled," Mayor said. And so was Vincent. "I think he was just beaming from ear to ear," Maynor recalls. Vincent smiled and added, "It made me feel real proud that he had come."
I don't think George would have wanted to have been anywhere else that day. Maynor said it best when she remarked, "The smallest thing can make the biggest impact sometime and we just don't even realize it."