This is an archived article and the information in the article may be outdated. Please look at the time stamp on the story to see when it was last updated.
HUNTSVILLE, Ala.-Kevin Staplers is a modern day treasure hunter.  Like the people on the show, Storage Wars, Kevin bids on abandoned storage units in hopes of finding something valuable.
One of his recent finds was worth far more than money. Inside a unit Kevin found pieces of a soldier's life.
"At first, I was like, wow, that's some money and then I was like, I've got to get it back to who it belongs to," said Kevin.  "This didn't come lightly to that soldier. He earned it, every bit of it."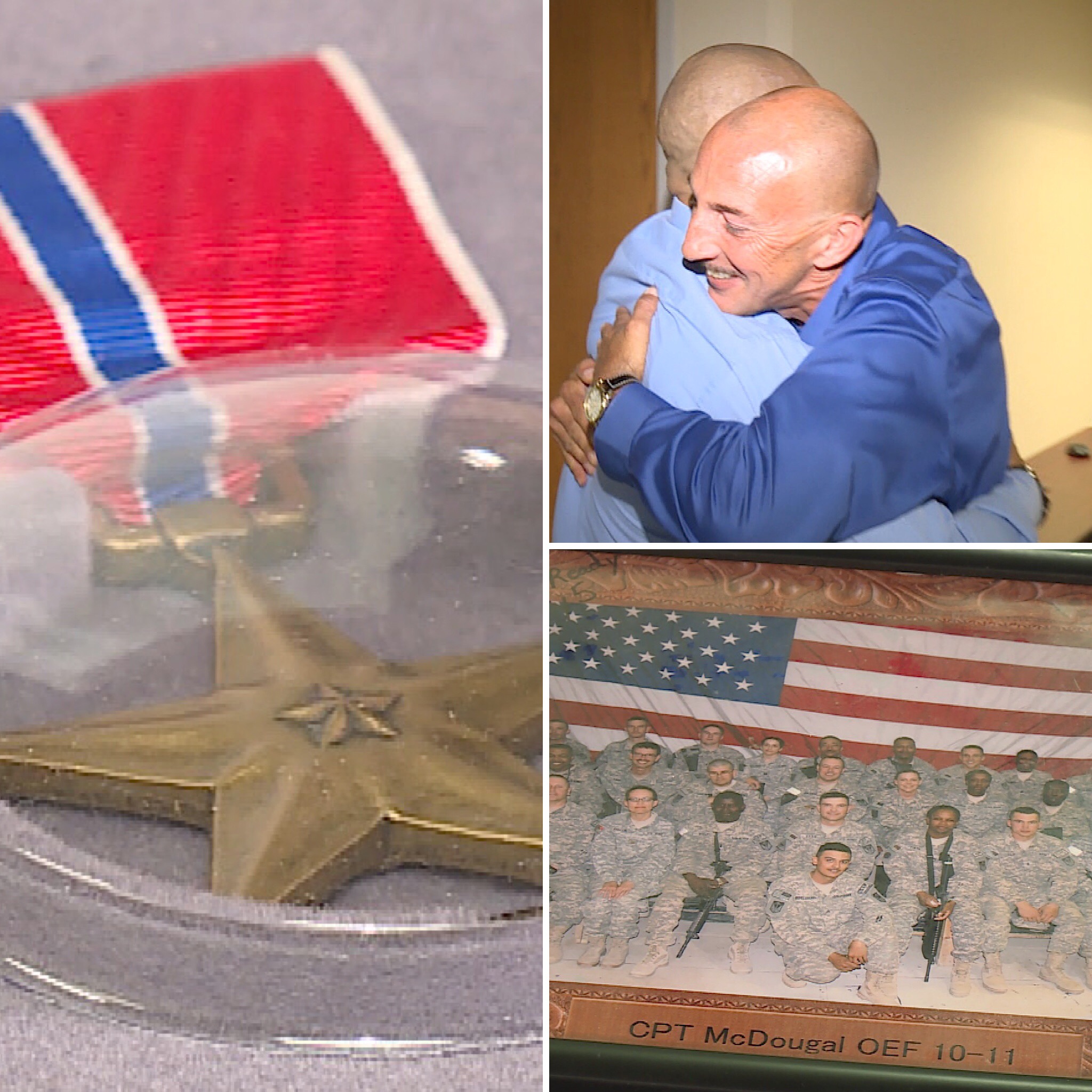 There was a bronze star in the bin. Kevin knew what he had to do. He decided to make it his mission to find the soldier so he could return what rightfully belonged to him. Kevin choked up as he held the medal saying, This didn't come lightly to that soldier. He earned it, every bit of it." He added, "That medal of honor is only earned for valor during combat. That man did something heroic."
The bin also contained two presidential commendations.  They belonged to Jon McDougal.  McDougal was a career Army man who enlisted at age 19 and served for more than 21 years before retiring as a major. Even though the two had never met, Kevin says he could tell "He was an outstanding soldier."
"I wanted to make sure this guy got his stuff back. It was important to me," said Kevin
Jon McDougal is now getting items back that had been misplaced four years ago during a move. "It's like glimpses of what you've done in your life," he said. For him, it's like reuniting with an old friend. "It's like pieces of your puzzle getting put back together. It's just a good feeling all way around," he said.
Among the precious possessions, a photo of Jon McDougal and his unit in Afghanistan. "It allows me to close my eyes and I can see their faces and hear their voices again," McDougal said. Holding the photo, the retired army major fought back tears as he said, "There's one face missing. His name is Charles Ridgely." He died four days before the photograph was taken. "Suicide vest came into his morning meeting and killed nine soldiers that day and he was among them," McDougal said. They were coming home in 38 days.
"I have his ID tags and a knife he gave me," McDougal said. "I'll place this on my wall and I'll hang his knife and my id tages next to it." It's a fitting tribute to a good soldier. Being reunited with what are irreplaceable parts of his life helps Jon honor his buddies and their memory.
"All of those thoughts and memories and experiences and things like that makes this an amazing day," he said as he turned toward Kevin. "And I just want you to know, I appreciate you man." They hugged as Kevin said, "You're welcome. I appreciate what you've done for us."