This is an archived article and the information in the article may be outdated. Please look at the time stamp on the story to see when it was last updated.
MUSCLE SHOALS, Ala. – A Muscle Shoals couple is sharing their little boy's story to raise awareness about a life threatening disease. But it recently became twice as important.
Kruz Davenport came into the world a little early and he had a rough start. He only weighed 3 pounds and 6 ounces when he was delivered by emergency cesarean section after his heart stopped beating. His mother Jessica says, "He's a miracle to be here. He wasn't breathing when he came out. They did CPR on him. He got sent to the NICU in Huntsville for a month to grow."
He's now 3. When he was a year old, they noticed he was sensitive to light and he was behind on his growth. In June, his parents found out why. He has Schimke Immuno-oseeous Dysplasia, which is a rare form of dwarfism. It can cause kidney failure, risk of stroke and heart disease.
"They have basically almost no immune system," Kruz's father Kyle added.  The family has to be extremely careful not to expose Kruz to people who are sick. But they're not living their lives in a bubble. "No, we try not to," said Kyle. "We use a lot of Germ-X."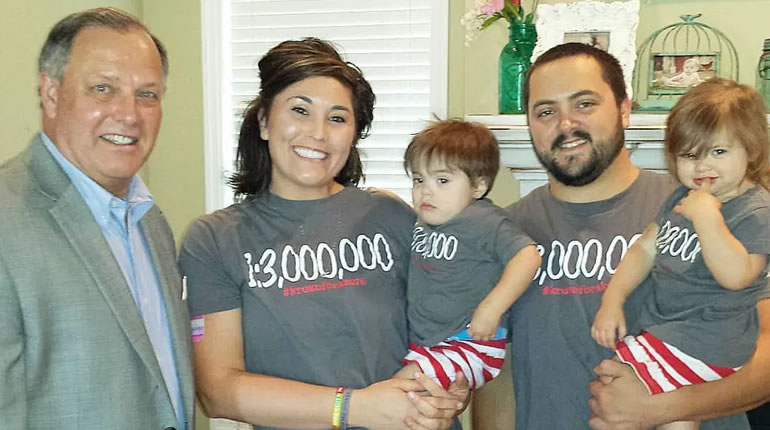 Schimke has changed their lives in more ways than one. Two months after Kruz was diagnosed, the Davenports were told his little sister Paizlee has the disease too. Jessica says, "Every day's a battle but we're fighting for them."
There was a 1 in 3 million chance Jessica and Kyle shared the same mutated gene that causes the disease and a one in four chance they'd pass it along to their children. "Right now there's no cure, no treatment. There's no nothing," Jessica told us.
Kruz and Paizlee are two of six children in the United States with the disease. There is a drug that could help them live into adulthood, well past the life expectancy of 9 to 11 years. But it's not cheap and the clock is ticking. Time is not on their side.
Fighting back tears, Kyle said "It's still early enough that it could be." But it's going to be a battle. "We needed three million yesterday," Jessica said. "That's sometimes impossible but I feel like we're taking the right steps in the right direction and we're praying for a miracle." Right now, they need two miracles.
But Kruz and Paizlee have some big guys on their team. Kruz calls them his "football friends." The Davenports recently spent a day in Tuscaloosa where Kruz handed out drinks to the players and also did some push-ups to help bring awareness to his "Strong Like Kruz" challenge. They also got to spend some time in Coach Nick Saban's office where Kruz tried on those national champion rings! His family laughed when he said, "They're too big!" And of course, they got to meet Coach Saban too.
The family is trying to raise $100,000 to get the ball rolling on research, testing and FDA approval of a drug that could help Kruz and Paizlee live longer. Jessica remarked, "We want to tell the world their story and let them make a difference." It starts right here.
A fundraiser is set for Saturday, October 8th at Wilson Park. It's called "Gathering for Kruz and Paizlee, Ride and Run for a Cure." The day starts with a poker run and ends with a 5K glow run that night.  Here's more information on the Kruz'n for a Kure Foundation's Facebook page.