This is an archived article and the information in the article may be outdated. Please look at the time stamp on the story to see when it was last updated.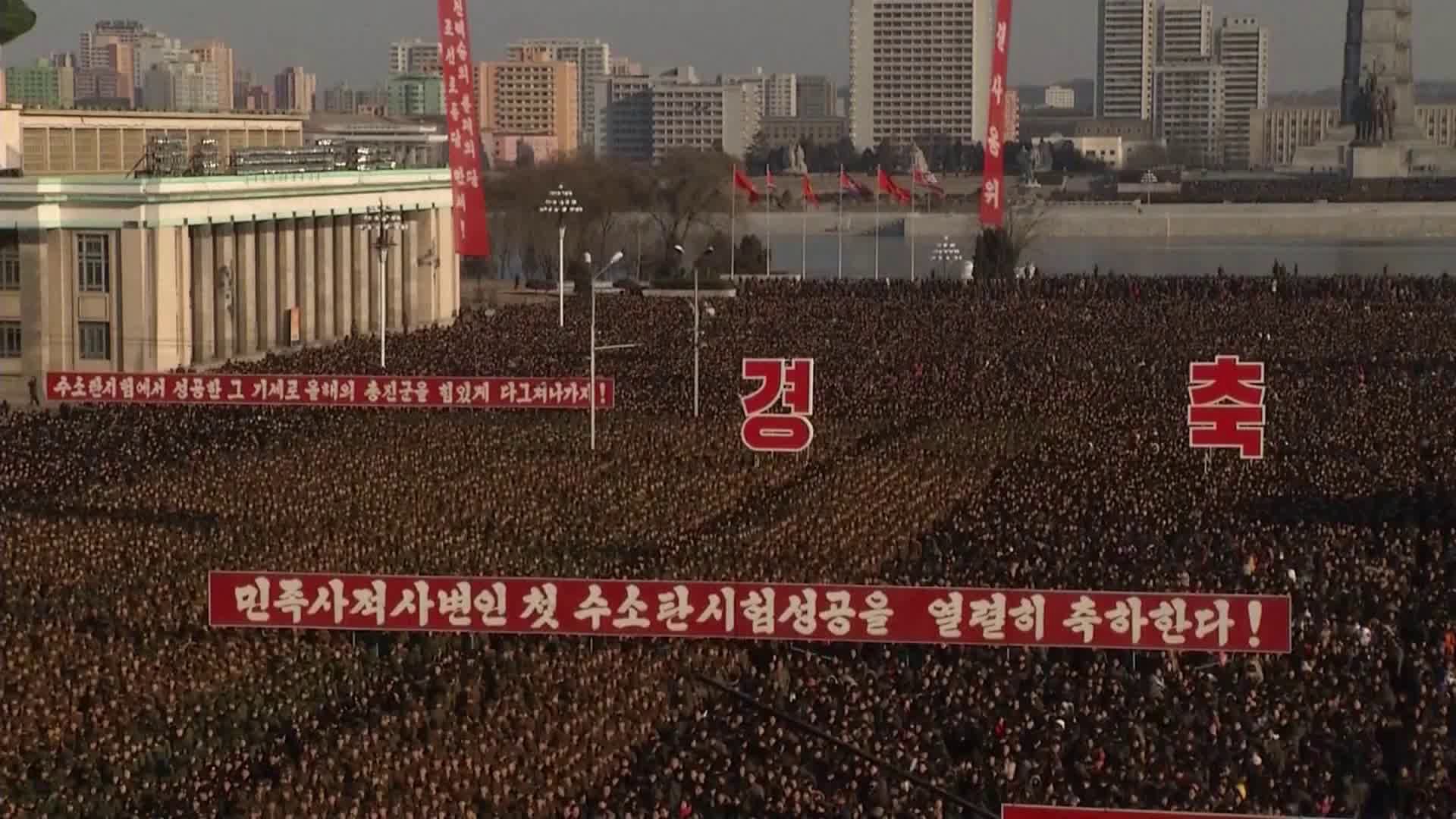 SEOUL, South Korea (AP) — The latest on North Korea's announcement that it conducted a hydrogen bomb test on Wednesday (all times local):
___
7 p.m.
Tens of thousands of North Korean soldiers and civilians have gathered at squares and indoor venues in Pyongyang for state-orchestrated massive celebrations of the country's fourth nuclear test.
People were seen dancing in the streets Friday, two days after North Korea announced it has successfully tested its first hydrogen bomb.
North Korea's state media say the events were attended by senior members of the country's leadership, including Premier Pak Pong Ju.
The largest crowd, estimated by the state media at 100,000, gathered at a square named after the late Kim Il Sung, the nation's beloved founder and the grandfather of the current leader Kim Jong Un. At the square, soldiers stood under a banner that read: "We passionately celebrate the historic national event that is the success of the first hydrogen bomb test."
It is unclear whether Kim, whose birthday is also believed to be Friday, attended the celebrations.
___
4:45 p.m.
South Koreans are divided over the resumption of propaganda broadcasts across the border into North Korea in response to Pyongyang's nuclear test.
On the streets of Seoul, resident Kim Yoon-ki says he supports resuming the anti-North propaganda. He says, "We definitely need to do it, and I think we should take even stronger action. And I think we should also arm ourselves with nuclear weapons."
He adds that North Korea seems to look down on the South "because we are always in a defensive position."
Lee Kwang-sun thinks otherwise. He says the nuclear test was a bad thing, "but I am not sure whether responding to them using loudspeakers is the right thing to do because it is hostile, attacking vulnerable and sensitive points of North Korea."
A group of protesters also called for a stop to anti-North broadcasts.
___
2:15 p.m.
British Foreign Secretary Philip Hammond is asking South Korea to refrain from resuming propaganda broadcasts across the border into North Korea.
Hammond said on a visit to Japan on Friday that he understands why South Korea feels the need to respond to North Korea's nuclear test earlier this week.
But he continued, "we have to be bigger than the North Koreans. … We know responding in this way is simply rising to the bait North Korea is presenting to us."
He adds that in return for asking for restraint, the international community needs to demonstrate to the South Koreans that it will do what's needed to make sanctions against North Korea effective.
— Ken Moritsugu, Yokosuka, Japan
___
10:00 a.m.
U.S. Navy Vice Admiral Joseph Aucoin, commander of the 7th Fleet based in Yokosuka, Japan, says the Navy is watching North Korea closely after the country conducted its fourth nuclear test.
Aucoin told reporters Friday morning that the Navy has ships in the area and is monitoring very closely, and added that he could not be more specific.
He says, "We want them to abandon any nuclear activities and comply with the international commitments and obligations. Until they do that they're not going to achieve prosperity, they're not going to achieve the security they desire. They're going to live in isolation."
Aucoin spoke aboard the USS Ronald Reagan at the Yokosuka naval base.
____
7:25 a.m.
U.S. Secretary of State John Kerry has urged China to end "business as usual" with North Korea after its nuclear test.
Kerry told reporters in Washington that he spoke by phone Thursday with Chinese Foreign Minister Wang Yi. He said that China's approach to North Korea had failed.
"Now China had a particular approach that it wanted to make and we agreed and respected to give them the space to be able to implement that, but today in my conversation with the Chinese I made it very clear, that has not worked and we cannot continue business as usual," Kerry said.
The U.N. Security Council that has pledged new sanctions against North Korea after its purported hydrogen bomb test on Wednesday. China has a pivotal position as it is a permanent council member and the North's main trading partner.