This is an archived article and the information in the article may be outdated. Please look at the time stamp on the story to see when it was last updated.
HUNTSVILLE, Ala. (WHNT) -- "Well, it was one day of shock back in 1977 when there was this 250-year-old building here in the middle of modern industry, so I guess the shock is just going to happen 36 years later when it goes away."
It is not often you come across a historic log cabin sandwiched between an Arby's restaurant and a funeral home on a city's main thoroughfare.
On any other spring day a quaint flower shop on Huntsville's north Memorial Parkway would be teaming with blossoms and patrons--but Friday was the last day for the petal pushers at Peggy's Log Cabin after a storied past in floral design.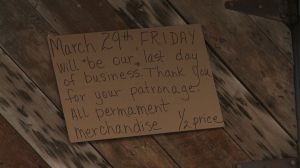 "It's bitter-sweet," explains owner Sherry Simmons Bailey, "but it's time."
Many changes over the years have brought on the need to call it quits, explains Bailey.
"Well the biggest factor is the internet," Bailey says. In a digital friendly age when flowers can be ordered in minutes with the click of a mouse, Bailey says the mom-and-pop flower shop is a dying breed.
"A lot of people sell flowers now, you know," says Bailey. "I don't sell bacon and eggs here, but the grocery store has all kinds of flowers."
Changes in technology, to the market and to the industry itself are all factors for closing up shop, Bailey says.
"Finding good quality product in cut flowers at a reasonable price in America has become a challenge for a retail florist."
But mostly says Bailey, she is ready to enjoy life's latter years to their fullest--this designer is hanging up her floral sheers.
"Yes, we're going away as a business but it's been a good ride, I mean we have enjoyed several years of prosperous business."
All those decades of get well wishes, of condolences, congratulations and salutations; decades of serving as the place that knows and cares if momma will be buried in a pink dress and the flowers need to match.
As Sherry Bailey bids farewell and a final thanks to all those who have supported her family over the years she says she is ready to not fuss over petal count or foliage sheen and just focus on the beauty of life itself--stopping for all the sweet stuff.
"I just want to see the pretty rose and smell it, you know."
Without much prospect of selling or renting the log cabin--and not wanting to leave an empty structure--Bailey made a deal with Kennedy House Movers to dismantle it for free in exchange for the right to sell off salvaged log beams. Demolition of Peggy's Log Cabin will begin in May.