This is an archived article and the information in the article may be outdated. Please look at the time stamp on the story to see when it was last updated.
CAMDEN, Ala. – The first weekend of the 2015 alligator hunting season is in the books. The Alabama Department of Conservation and Natural Resources limited the number of tags awarded this year to 260 for the six-day hunt which spans two weekends. I am one of the tag holders.
While total harvest figures for the first three days of the hunt have not been released, I have confirmed that 60 gators have been taken from two of four hunt zones.
This was my first time on a gator hunt. Besides providing meat for my family to eat, I also brought home a wealth of memories and made some new friends.
My hunt team consisted of my husband, Mark, and our friend, Frank Petrillo. For the three of us and for many others, hunting is a way of life. It's how we provide meat for our families.
The hunt began on Thursday, August 13, at 8p.m. As we launched our boat from the shores of the Roland Cooper State Park near Camden, Alabama, the sun was setting over the calm water of the Dannelly Reservoir (also known as the Millers Ferry Reservoir) of the Alabama River. The sky was clear and the weather was remarkable – temp in the mid 70's and relatively low humidity considering it's mid-August in south Alabama.
As we finished loading our equipment on the boat, my husband spotted a gator in the middle of the water about 100 yards away. Slowly, quietly… we push-poled our way toward the creature whose presence was only detected because his rigid back broke the plane of the still water.
I cast my line several times in the reptile's direction only to discover that I failed in both accuracy and distance. Once that gator meandered into water too shallow for us to pursue, we moved on to another area my husband had scouted earlier in the day.
As nature's lightbulb dimmed, there was only one way to continue our search for a gator – a flashlight. The telltale sign to spotting a gator is the red glow from their eyes as the light source meets them. That was a task I proved competent at performing. At that point, our roles were set. Frank would maneuver the boat using the trolling motor while Mark made the casts.
For several hours, we chased gators around a slough. I quickly realized two things. One is just how hard it is to judge distance on the water at night. The second is how easy it is to lose your sense of direction at night in that environment. When I asked my husband if camp was "that way" as I pointed in an unknown direction, he laughed and said, "No. It's that way." And, he pointed in the opposite direction. Instead of leaving it at that, Mark then directed my attention to the Big Dipper which was perfectly visible and gave me a lesson about using it for navigation. The night sky was incredible – flecked with stars that looked like a dusting of glitter on an ebony curtain. Throughout the evening, we were treated to a few streaks from the remnants of the Perseid Meteor Shower.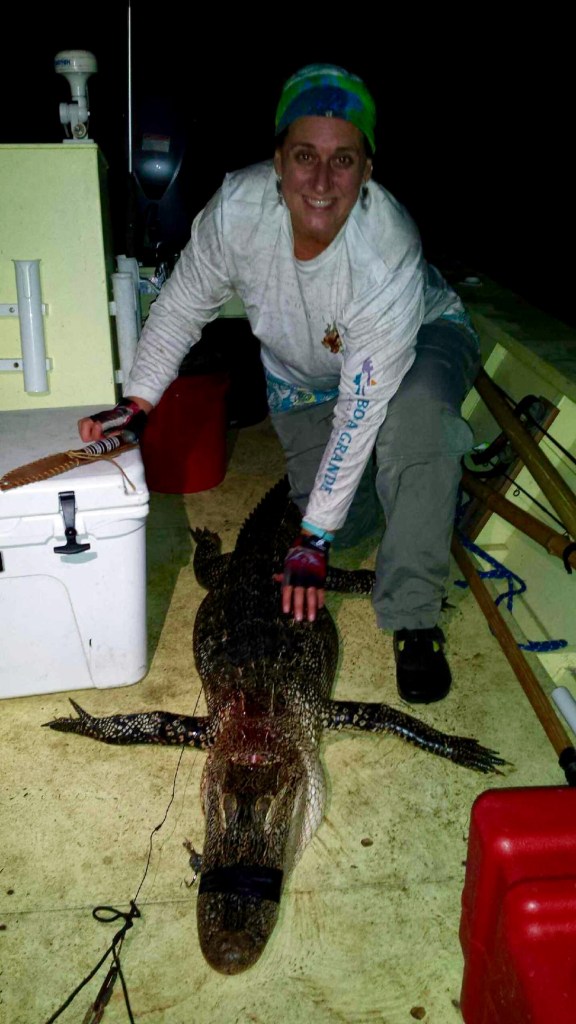 Just after 2 a.m., we spotted another gator and began pursuing it. The same routine of trolling and casting ensued. Alabama's laws for harvesting alligators are different than what you see on popular cable t.v. shows which are primarily shot in Louisiana. Two main differences in Alabama are you may not bait an alligator and you are not allowed to shoot one that is free-swimming.
It took us about 40 minutes to get our gator restrained by the side of the boat. We used a hook and line, a hand line, a harpoon and a snare before the final act of dispatching by shotgun. Once inside the boat, I used a fixed-blade knife that my grandfather gave me to sever the spinal cord.
Ceremoniously, we said a few words aloud thanking the gator for its life, the meat it would provide for our sustenance and the hide for handcrafted items yet to be determined.
An hour later, we pulled into the wildlife check station based at the pavilion in the Roland Cooper State Park to fulfill our responsibility of reporting the harvest. The officers take measurements, record the weight and determine the sex. My gator was the third one harvested on the night. It was a male and measured 7',1" and 84 pounds.
Managing the Population
For me, the hunt is about providing food for our table. For the state, the hunt is about appropriately managing the gator population.
The state Department of Conservation and Natural Resources website indicates Alabama's alligator population has grown to the extent that they pose a nuisance in some areas. It says that if left unregulated, hunting can lead to the extinction of a species. According to state wildlife biologists, "Implementing a regulated alligator hunt on a small scale is an important step toward controlling populations and better managing this unique reptile."
The tags available are determined annually and are based on population surveys. The state conducts population surveys in and around the four hunt zones each year. These surveys are conducted at the same time and under the same conditions each year and record total number of animals observed and size estimations, if possible.
Wildlife biologist Chris Nix said, "We use this information to look at trends in the populations (increasing/decreasing) and set possible harvest quotas for each zone. Getting a total population for any wild animal is next to impossible but trend surveys such as these are commonly used to determine the overall health of a population."
As of this year the populations in all zones are stable to increasing with the exception of the Lake Eufaula zone. Nix added, "In defense of this we have had a reduction in available harvest tags in this zone and implemented an 8' size restriction on harvest. This will allow us to protect the majority of the females in this zone from being harvested."
The state started issuing tags for alligator hunts in 2006. At first, it was restricted to just one zone in the Mobile Tensaw Delta. "The hunts were started when we felt that the population of alligators in Alabama could sustain a limited harvest," Nix stated. He continued, "In addition to allowing the residents of Alabama an opportunity to hunt alligators, this hunt also will hopefully assist in the control of nuisance alligators in and around populated areas."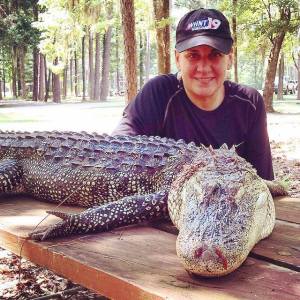 Wealth of Memories
Back at camp, we put our gator on ice and got to bed around 5 a.m. on Friday morning. After a few hours of sleep, we got up and took care of skinning, butchering and packing our gator for food-safe transport back to north Alabama.
That evening, we went to the park pavilion and found a family reunion-like atmosphere. Adults and children gathered. They were talking and enjoying each other's fellowship. We shared stories of our outdoor adventures – not just gator hunting.
We met two precocious 11-year-olds, Trinity and Ashton, who were amped up over the possibility of seeing a gator up close and in person. I asked the boys if they were brothers. Without hesitation Ashton replied, "No. This is my friend. My good friend." I later learned they had just met each other last year when their families were camping at the state park. They hadn't seen each other since because one lives in Andalusia and the other "stays" in Monroeville – as the one said of the other.
When Mandy Stokes and her husband, John, arrived, the voltage palpably increased. And, with good reason. The Stokes slayed the world record for gator hunting last year with a mammoth 15', 9" gator weighing 1, 011.5 pounds. Trinity and Ashton immediately raced over to them and began peppering them with questions.
The Stokes seem to take all the attention in stride as if they feel an obligation to be ambassadors of both hunting as well as their hometown of Camden. As evidence, Mandy brought a Ziploc package full of a homemade batter bread and offered a slice to anyone within earshot. Their humility was refreshing and inspiring.
As much as we wanted to hang out for the evening's festivities, exhaustion overcame us and we retired to our camp. But not before receiving an invitation to be a guest on Big Daddy Lawler's "Getting' Outdoors" radio show the next morning. It can be heard locally in south Alabama on Saturday mornings from 7-9 a.m. on a variety of radio stations including 100.9 FM WALX or online at gettinoutdoorsradio.com.
As a nearly 25-year veteran of the broadcasting industry, I wasn't accustomed to being the one being asked for an interview. Typically, it's the other way around. Since I dislike it when people turn my station down for interviews, I felt compelled to accept the invite.
The next morning, I arrived at the state park pavilion close to 7:30 a.m. Big Daddy Lawler was well into his on-location show and interviewing Kevin Jones from the State Parks division of the Department of Conservation and Natural Resources.
To my surprise and pleasure, Big Daddy planned to pair me with Mandy Stokes for the interview. While we waited for our turn, Mandy and I struck up a conversation. She shared with me that in the last year since her record-breaking harvest, she had actually received some backlash from people who were anti-hunting. She revealed that random people had called her workplace and expressed their wishes for her demise. She asked me how I dealt with the criticism. In truth, except for a few unkind comments on the WHNT News 19 Facebook page, I have not ever experienced the kind of venom she had. That revelation bolstered my reason for wanting to write about the experience – a hope that I could help people see other perspectives about hunting.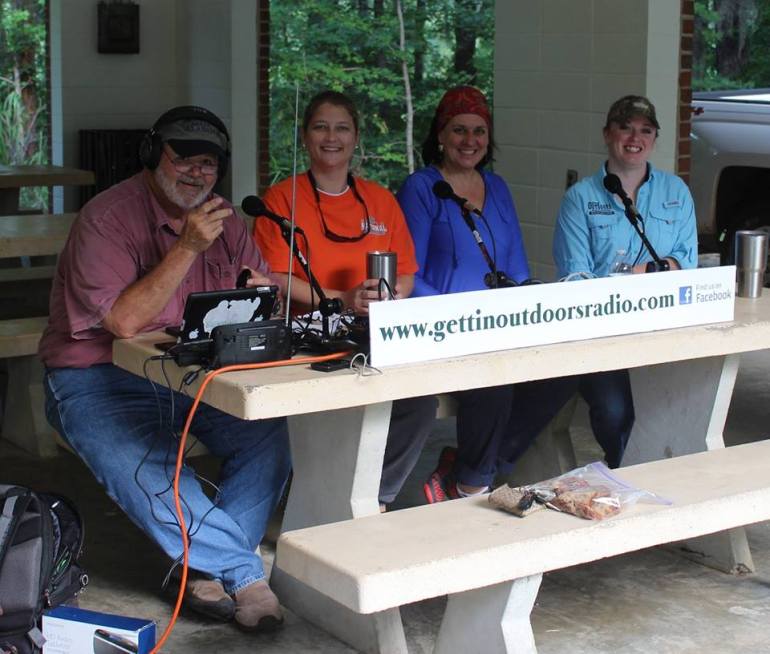 Once Kevin was cleared from his spot in front of the microphone, he greeted me with a big smile and an even bigger hug. And, then Mandy and I assumed our spots at the mic. Big Daddy and his co-host, Ashley Mason, immediately put me at ease with their affable tone that made me feel as if I was just chatting with a long-time friend. So much so, that I didn't even realize they interviewed us for nearly an hour. We shared our gator hunt experiences.  More importantly, we talked about the benefits of being outdoorswomen.
As I drove home to north Alabama later that day, I reflected on my weekend adventure and took stock of what I really got out of it besides a cooler full of meat. While we took a few digital photos during the weekend, it's the mental snapshots that I will carry with me for a lifetime.
The outing affirmed my appreciation for the natural beauty of the world around us and the bounty nature can provide. It delivered an inner peace and relaxation that I can typically only get when I visit a spa. And, I counted the new friends I made in the process – Mandy & John Stokes, Big Daddy Lawler & Ashley Mason and Kevin Jones. As I channeled the childlike wisdom of Trinity and Ashton – those 11-year-olds I encountered – I mentally declared that group my "good friends."
2015 West-Central Zone Alligator Harvest Results (8/13-8/16)

08/13-14/15
01 – Patrick Benson (Addison) – 13′ 2 3/4″, 776 lbs.
02 – Craig Gamble (Camden) – 12′ 6″, 483 lbs.
03 – Denise Vickers (New Market) – 7′ 1″, 84 lbs.
08/15/15
04 – Marcus Graves (Stile) – 8′ 3″, 153 lbs.
05 – Justin Wasden (Wetumpka) – 11′ 6″, 303. Lbs.
06 – Jason Hallmark (Boaz) – 9′ 1″, 179 lbs.
07 – Will Dailey (Selma) – 6′ 8″, 55 lbs.
08 – Byron Amos (Mobile) – 10′ 8 1/2″, 332 lbs.
08/15/15
09 – Ryan Summerford (Fairhope) – 8′, 116 lbs.
10 – Johnny Lebrum (Huntsville) – 6′ 4″, 51 lbs.
11 – Adam Carlton (Wetumpka) – 8′ 11″, 188 lbs.