This is an archived article and the information in the article may be outdated. Please look at the time stamp on the story to see when it was last updated.
WIMBERLEY, Texas — Many parts of Texas are cleaning up following historic and catastrophic flooding in dozens of communities this weekend.
Twelve people are missing in Hays County, Texas, after severe flooding in the area, county emergency coordinator Kharley Smith said Monday morning.
The missing are from families who had gathered for the long weekend and likely include children, added Ken Bell, emergency coordinator for San Marcos.
A family of four was swept away during the floodwater early Sunday morning outside Austin.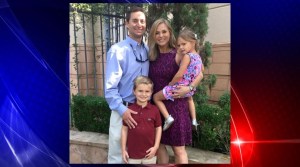 Jonathan McComb, his wife, Laura, and their two children were reportedly staying at a river house in the town of Wimberley when a wall of water swept the home off its foundation.
Jonathan McComb is in the hospital recovering from several broken bones and a collapsed lung. His wife and two children are among 12 still missing.
As the home got swept away, McComb was on the phone with her sister.
"We are floating in a house that is now floating down the river," McComb said, according to her sister. "Call Mom and Dad. I love you, and pray."
Complicating search efforts: Hays County still has Internet problems, and cell phone networks are overwhelmed.
Officials estimate the number of homes completely swept away by the severe flooding to be as high as 450. "We do have whole streets that have maybe one or two houses left on them, and the rest are just slabs," said a Hays County emergency management coordinator.
More than 1,000 homes sustained damage and numerous bridges were washed out by the floodwater.
In Wimberly, Texas, the Hays County Sheriff's office said it had set up emergency shelters in two schools, a community center and a nursing home.

Damage to a bridge in Wimberley, Texas after severe flooding. (Source: KENS 5)

Damage to a bridge in Wimberley, Texas after severe flooding. (Source: KENS 5)
The Blanco River in Kyle, Texas rose more than 28 feet in just a matter of 90 minutes during Saturday night's torrential rain.