This is an archived article and the information in the article may be outdated. Please look at the time stamp on the story to see when it was last updated.
HUNTSVILLE, Ala. (WHNT) - A night of fun with friends led to three days of fear.  Luckily, a stranger passed 19-year-old Tyler Campbell in his hour of need. 
It was three days after he wrecked his truck five miles from home and found the resolve to crawl up a ravine.  He is now recovering at Huntsville Hospital, smiling and getting his strength back.
Tyler Campbell's story began on his ride home from a friend's house Saturday night.
"All I remember is running off and hitting the sign. It is all I remember," Campbell said. "I blacked out, woke up and my leg was dangling."
Campbell fell asleep behind the wheel while driving on Interstate 65 near the Alabama-Tennessee line.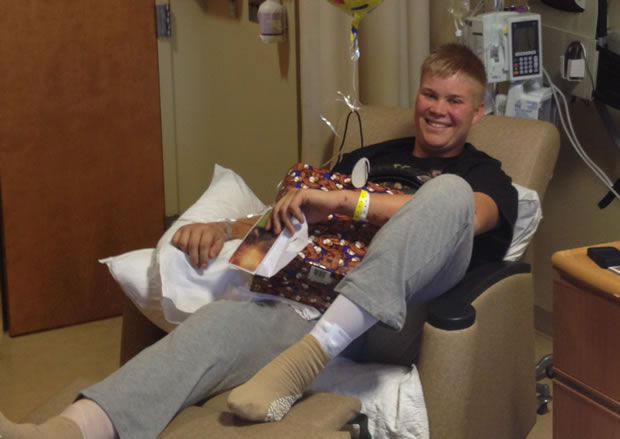 "There wasn't anyone around," Campbell said.  "I was crying for help.  No one was answering and stuff like that."
The 19-year-old's cries for help continued, each one falling on deaf ears.
"It was hurtful knowing no one was answering me or anything like that," he said.
Campbell stayed in the ravine for three days.
"I could hardly sleep sometimes.  The trucks were loud," he recalled.  "I couldn't get any rest."
Tyler heard another crash a day later, not far from where he was.  It involved an 18-wheeler.  He saw an emergency helicopter land close by.
"I'd seen them go by and saw the light reflecting," he said.  "I screamed for help and did everything I could.  No one answered."
First responders took that victim away.   Campbell remained, spending another night in the ravine, this time in the rain.
"It was cold.  I said there is no hope for me.  I asked the Lord to take my life. I was ready to go," said Campbell. 
"Why?" we asked.
"I was freezing.  It wasn't any hope.  I didn't think there was going to be any hope for me," he replied.
Campbell held on, though.  He got up the strength to crawl up the ravine.
"I don't know.  It was just like I caught a second wind," he said.  "I didn't even plan on getting up that Tuesday."
The teenager was on his way to getting help.  A man driving along I-65 spotted him.
"The truck driver got out of the truck, walked and then ran up to me," said Campbell.  "I was crying.  I was just glad to see somebody."
Campbell does not remember much, but does recall how he felt.
"I was like, oh my goodness. My arm was feeling like jello and moving. It was a weird feeling," added Campbell.
Trapped alone in the ravine, Campbell took drastic steps to stay alive.
"I thought, well, here is a headlight. It was busted to pieces. It had a cup at the bottom of it. It started to rain, so I held it out. That is how I drank Monday night.," added Campbell.