This is an archived article and the information in the article may be outdated. Please look at the time stamp on the story to see when it was last updated.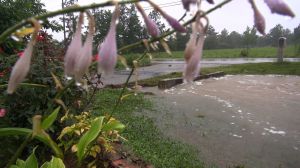 MADISON COUNTY, Ala. (WHNT) — For most residents of Madison County the July 4th holiday was a wash. Some saw staggering amounts of rainfall in just a few hours Thursday.
In the midst of the flood event WHNT News 19 reported on the flooding plight of Harvest resident Birdie Ferguson who lives on Stovall Road.
Ferguson says Thursday her front lawn was overtaken by rushing waters caused by an overflowing drainage ditch. Gravel from her neighbors driveway was washed into her garden and flowers and plants were destroyed.
Birdie told WHNT News 19 she wanted district 4 county commissioner Phil Vandiver to look into the issue, so Friday we took action in hopes of getting results for the avid gardener.
Keeping with his promise, Vandiver showed up at 11 a.m. sharp to survey the situation.
Vandiver took a look and said there were some legal ins-and-outs he would need to confer with his county partners about but said he was pleased to at least get the ball rolling for the Fergusons.
"We need to find out what the county can do legally to help solve some problems for these people. They've got issues that need to be looked at and if the county can help them we want to help them out anyway we can," promised Vandiver.
"I believe Phil will help me," says Ferguson, "And I'm so glad you all have started what you've done with things like this, otherwise poor people like me wouldn't ever get it done and I appreciate WHNT News 19, I do," Birdie smiled.
In just the few short hours since Thursday's flood even around Madison County Phil Vandiver says commissioner have developed quite a queue of residents with flooding issues they say need to be addressed.
"Go ahead and call out office let us work on our list we had 10 call last night concerns people had with drainage ditches and things like that, we'll be glad to come out and take a look at them."
Vandiver got started on his list early Friday morning, but reminds residents to please remain patient.
"There is going to be a lot of issues after this rain, at my house we had 7 inches of rain and that's very unusual for one day in July to get that much rain."
Vandiver served as a mouth piece for his counterparts saying all commissioner in Madison County value the same open and accessible approach.
"I don't know of a single commissioner out there that wouldn't want folks to call and tell them what concerns they have," said Vandiver, "They are great people all concerned about our citizens and want to see what we can do to make Madison County a better place to live and enhance the quality of life here."
Below is contact information for all Madison County Commissioners:
Chairman Dale W. Strong
strongalabama@att.net
County Commission Office, 256-532-3795
Commissioner Roger Jones
District One Office 256-828-0726,
Fax 256-828-0022
9457 Moores Mill Road
New Market, Alabama 35761
Commissioner Steve Haraway
E-Mail: dist2@madisoncountyal.gov
District Two Office 256-532-1590
100 Plaza Drive
Madison, Alabama 35758
Commissioner Eddie Sisk
District Three Office 256-723-4247
161 Walnut Street
New Hope, AL 35760
Commissioner Phil Vandiver
District Four Office
Hours: Monday – Friday from 7am to 3:30pm
6084 Highway 53
Harvest, AL 35749
Phone: 256-852-8351
Commissioner Phil Riddick
District Five Office
dist5@madisoncountyal.gov
Office 256-532-3497
Mobile 256-658-3377
100 Northside Square
Courthouse 6th Floor Room 627
Huntsville, Alabama 35801
District Six Commissioner Robert C. (Bob) Harrison
District Six Office 256-532-1505
Email: bharrison@madisoncountyal.gov
3210 Hi-Lo Circle, Suite B
Huntsville, Alabama 35811