This is an archived article and the information in the article may be outdated. Please look at the time stamp on the story to see when it was last updated.
We got off to a mainly dry, but muggy, start Saturday morning. Expect a steam bath when you walk outside; that summertime feel isn't going away until a cold front passes Sunday night.
Stormy periods on Saturday and Sunday: The best laid plans may need some tweaking this weekend if they mean you'll be outside for any extended periods of time.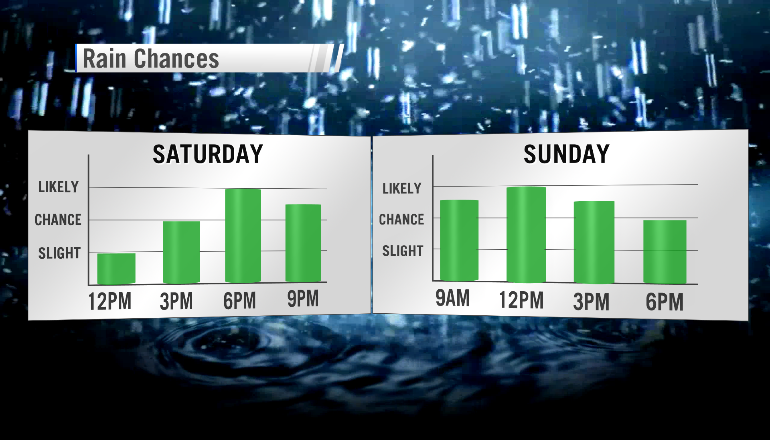 The heat and humidity building up in the region, the addition of deep tropical moisture, and a cold front in the area all work together to provide good coverage of rain and thunderstorms Saturday afternoon through most of the day Sunday.
Track heavy storms with WHNT.com's Interactive Radar or swipe over to the radar feature on Live Alert 19!
Scattered storms begin as early as noon Saturday, but they become more widespread between 1pm and 4pm. Other spotty storms develop around the original batch through early evening.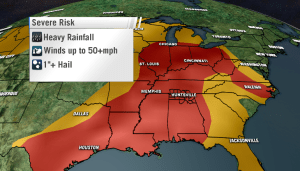 A few of those could be strong, and there's just a slim chance that a storm could become severe. Heavy downpours and lightning are most likely with these storms, but winds up to 50+ mph and hail up to 1" in diameter are also possible.
Showers and storms linger overnight, ahead of our next wave of showers and storms Sunday morning.
Sunday is when a slow moving cold front will actually move into the Valley. Since clouds and storms move in earlier on Sunday, we won't be as unstable as Saturday afternoon. That means storms Sunday likely won't be as strong, although they could certainly still drop a good amount of rain!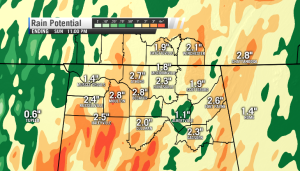 Scattered showers and storms will last all the way into Sunday afternoon before finally tapering off Sunday evening. Rainfall totals up to 2" are possible by the time we dry out!