This is an archived article and the information in the article may be outdated. Please look at the time stamp on the story to see when it was last updated.
(CBS) – Stephen Colbert will succeed David Letterman as the host of 'The Late Show".
Colbert is the host, writer and executive producer of the Emmy and Peabody Award-winning "The Colbert Report,"
Letterman announced he will retire in 2015. President and CEO of CBS Entertainment announced a five-year agreement between CBS and Colbert Thursday.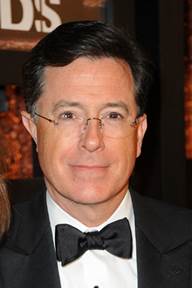 Letterman, the legendary, critically acclaimed host of the CBS late night series for 21 years, announced his retirement on his April 3 broadcast. Colbert's premiere date as host of 'The Late Show" will be announced after Mr. Lettermen determines a timetable for his final broadcasts in 2015.
Colbert says,"I never dreamed that I would follow in his footsteps, though everyone in late night follows Dave's lead."
Adding, "I'm thrilled and grateful that CBS chose me. Now, if you'll excuse me, I have to go grind a gap in my front teeth."
Letterman congratulated Colbert on getting the job.
"Stephen has always been a real friend to me," said Letterman. "I'm very excited for him, and I'm flattered that CBS chose him. I also happen to know they wanted another guy with glasses."
To read the entire CBS article, click here.