This is an archived article and the information in the article may be outdated. Please look at the time stamp on the story to see when it was last updated.
DALLAS COUNTY, Ala. - In Alabama and in many states across the nation, hunting numbers are dwindling.  In the last four years, the number of hunting licenses sold in Alabama has dropped by nearly 13,000.
"Nationwide hunting numbers are going down. The amount of people hunting each year is declining nationwide. It's not strictly an Alabama issue," said Chuck Sykes, State Wildlife & Freshwater Fisheries Director.
Why does that matter?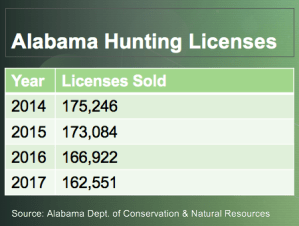 That's a loss of more than a million dollars that would help pay for the upkeep of Wildlife Management Areas.  WMAs are public land that can be used for a variety of outdoor recreation, not just hunting.  Activities like hiking and bird watching.
So, state wildlife managers are taking steps to turn things around.
"We have been evaluating all of our programs. We have recruitment, retention and reactivation programs we have been doing for decades. Apparently, they're all not working real well or we wouldn't be in this position," Sykes added.
In the past, the focus has been on programs to get children interested in hunting.  While those programs aren't going away, the state is now targeting a more mature demographic with adult mentored hunt programs.  "A first-timer can be 40 years old." The reason is simple, "They've got the financial wherewithal. If they want to hunt, they can do it.  They have made their mind up they want to do it," explained Sykes.
You apply online.  If you're selected, they pair you with an experienced hunter for one or three-day hunts.  The state will supply all the equipment you need - gun, ammo, lodging - at no cost to you.  Your only expense is the cost of a hunting license.
Sykes says the environment is not intimidating, "It's very low-key. It's one-on-one with one of my staff and we're basically giving them a crash course on a weekend of what we went through our whole life."
Mentored hunt programs are available for deer, turkey, squirrel, and rabbit.
The skills you'll be exposed to include:
Equipment Needed
Firearm Safety
Scouting for Animals
Hunting
Game Cleaning
Cooking Wild Game
The state started the adult mentored hunt program last year and Sykes said it was eye-opening for his staff, "We're sitting in a blind with a gentleman that's 45.  He works with people who hunt and no one ever asked him to go hunting. He came to this program so he could get some knowledge so he could talk to people at work."
State wildlife managers hope the program leads to a lifetime of hunting stories.