This is an archived article and the information in the article may be outdated. Please look at the time stamp on the story to see when it was last updated.
HENAGAR, Ala. – A satire page appeared Monday night claiming that the Henagar Drive-in had reversed its decision to refuse to air the latest Disney movie after much controversy and debate.   There does not appear to be any truth to that.
The spoof post was made to Facebook at approximately 9:30 p.m. By 10:45 p.m. Monday night the page was removed from Facebook.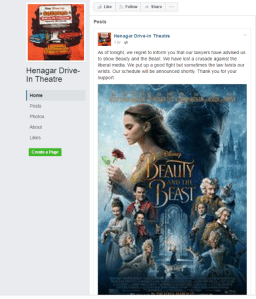 Upon closer examination, the "About" section of the Facebook page stated that it was a satire page.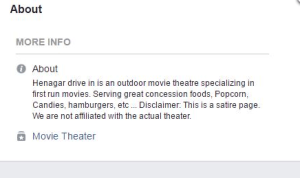 Multiple news outlets, including WHNT News 19, reported the information before realizing the mistake.  We apologize for the error.
Henagar Drive-In Theatre owners originally chose not to air the film stating that the introduction of Disney's first openly homosexual character conflicted with their religious beliefs.  The decision generated thousands of comments on social media around the world.