This is an archived article and the information in the article may be outdated. Please look at the time stamp on the story to see when it was last updated.
MONTGOMERY, Ala. – After a tumultuous day in Montgomery, Governor Robert Bentley has resigned from office.
"The time has come for me to look at new ways to serve the people of our great state. I have decided it is time for me to step down as Alabama's governor."
This comes hours after a House committee began impeachment hearings, and about one hour after Bentley was booked in the Montgomery County Jail on misdemeanor charges.  He pleaded guilty to failing to file a major contribution report and knowingly converting campaign contributions to personal use.
Lt. Governor Kay Ivey will be sworn in at 6 p.m. She will be the second female governor.  Bentley said he spoke with her earlier today.
"The people need and deserve a peaceful transition of power," he said.  Bentley offered his help to Ivey as she takes over various projects and programs.
Bentley was heartfelt as he offered his apology to citizens and his staff, saying he let them down:
"I've always believed the honor of serving as your governor was a calling that God placed on my life. I've not always made the right choices, I've not always said the right things. Though I have sometimes failed, I've always tried to live up to the high expectations the people place on the person who holds this esteemed office.

Though I have committed myself to working to improve the lives of the people of our state, there have been times where I have let you and our people down, and I'm sorry for that. The consequences of my mistakes have been grievously unfair to you, my loyal and dedicated staff, and my Cabinet, and all of our agencies who have continued your exemplary service to our people in your respective agencies in the face of difficult circumstances.
"Thank you, and goodbye. I love this state from the bottom of my heart, and the people of this state," he said in closing. He did not take questions afterward.
Busy day in Montgomery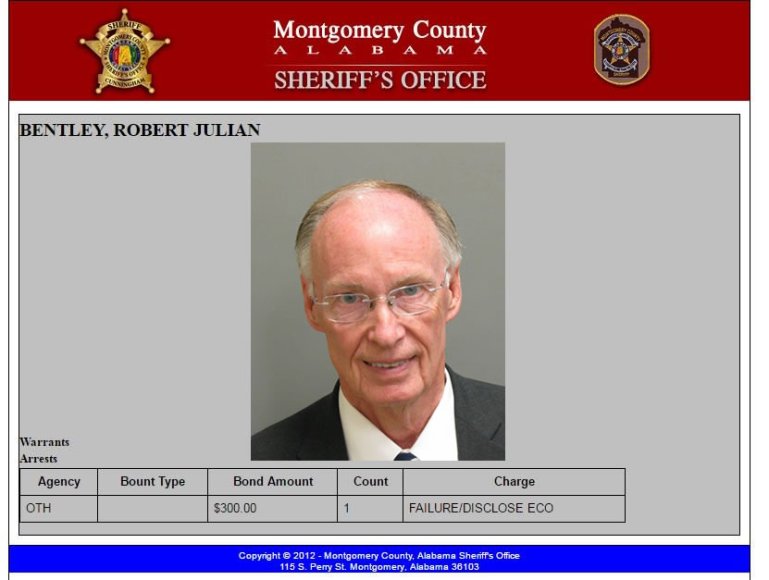 Monday morning, Bentley's office was in negotiations to set specific terms of him stepping down.  He also pleaded guilty to misdemeanor charges later in the day, turning himself in and posing for a mugshot on his last day in office.
There has been a whirlwind of activity about Gov. Bentley in the last several days. Friday, he stood on the steps of the Capitol and said he would not resign, but apologized for failing in his personal life.
That same day, House Speaker Mac McCutcheon called on Bentley to resign. Later Friday, the House Judiciary Committee released the Special Counsel's investigative report on Bentley.
Alabama Republican Party leaders have also echoed the call for Bentley's resignation.
Last week, the Alabama Ethics Commission ruled there was probable cause to believe the governor violated state ethics law and committed three campaign finance law violations.