This is an archived article and the information in the article may be outdated. Please look at the time stamp on the story to see when it was last updated.
HUNTSVILLE, Ala. – Technology is constantly changing and improving the way we gather information to bring you the news.  An old concept now has a relatively new twist for our industry, and it's another first for us.  We'd like to show you Sky19.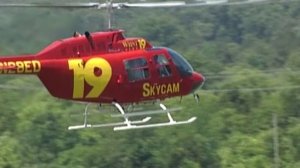 Years ago, we used Skycam 19 to fly over the scene to give you a bird's-eye view of news happening on the ground.
"It was a lot of fun," said Shane Hays, WHNT News 19's Assistant Chief Photojournalist. He's worked at the station for 17 years.
WHNT News 19 now has Sky19.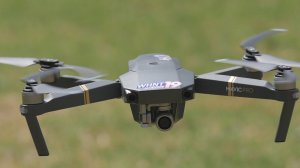 "This is similar, a little lower, a little more control on our part," said Alex Lynch, another videojournalist at our station. "We can bring a different angle to the viewer, let them see the bigger picture, literally."
Sky19 is an unmanned aerial vehicle.  These are new to the news industry.  Ours weighs a little more than one and a half pounds and helps us give you that "eye in the sky" again.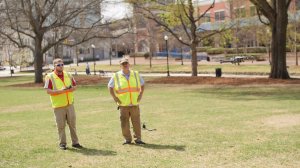 "The perspective they give to stories is just amazing," said Shane.  "It's a perspective we haven't had in a little while since we stopped flying Skycam 19. But Sky19 gives us that vantage point back."
That doesn't mean you'll see us flying it every day.  The rules for television stations using UAVs are a little different. Videojournalists Shane Hays and Alex Lynch took a class and passed a Federal Aviation Administration test so they can legally fly Sky19.  It's called a Part 107 license.
"It wasn't just about the FAA rules of 107 pilots. It was also about journalistically what we should and shouldn't do," said Hays.
Al Tompkins is an award-winning journalist and serves on the faculty of the Poynter Institute.  He teaches broadcast and online courses.
"It's another tool but it's only a tool and it doesn't replace careful reporting and accurate sourcing and all those fundamentals," said Tompkins.
We won't fly during bad weather or at night, and we'll always put safety first.
"We have a maximum of 400 feet that we can fly up to but even at that 400 foot level here in downtown, there could be a medical helicopter flying through. If we see any manned aircraft, we immediately land," said Shane Hays.
Severe weather coverage
Unmanned aerial vehicles are also used by farmers, firefighters and police departments.  It's possible the work we do could support emergency workers, for example, after a severe weather event.
"You can imagine in an emergency after a tornado, during a flood being able to get to a scene quickly that otherwise is blocked off by debris. You know, this could be pretty important information," said Tompkins.
When we take Sky19 up, we can survey the area for our knowledge and for storm survey teams.  The information we gather could help WHNT News 19's team of meteorologists get a better look at determining the strength and path of a storm.
"Flying it responsibly over areas where damage has occurred is obviously paramount to us here," said Jason Simpson, WHNT News 19 Chief Meteorologist. "But it will help us especially in moments and hours that are following a severe weather outbreak so we can get information about what happened and learn from that information even more quickly than ever."