This is an archived article and the information in the article may be outdated. Please look at the time stamp on the story to see when it was last updated.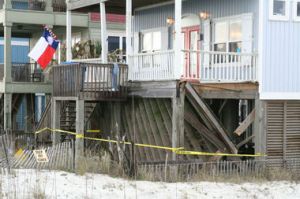 Gulf Shores, Ala. (WHNT) —  A deck at beach house in Gulf Shores was packed with college students on spring break when it collapsed Monday.  At least six people were sent to the hospital with broken bones, and head and neck injuries.
"We were on our way over there and we heard a huge crack and saw the deck fall down and a lot of people got caved under," says Alex Logue who was just a couple of houses over when the deck collapsed.
There were believed to be around 30 people on the deck when it collapsed.
This is the second week of spring break along Alabama beaches.