This is an archived article and the information in the article may be outdated. Please look at the time stamp on the story to see when it was last updated.
LAUDERDALE COUNTY, Ala. – It's a touching story, a man on a life's journey to help his fellow veterans and soldiers.
In March, Joe Copeland left home to walk across America in hopes of drawing attention to a tragic statistic.
"Every two miles or so a veteran commits suicide, so it's something we think about all day long," said Copeland.
Since his departure from Virginia, Copeland has had a lot of time to think.
With each step he's fulfilling a mission. One instilled in him in the Navy while serving in Iraq and Kuwait.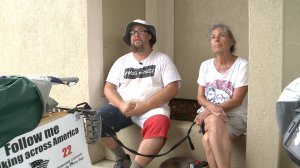 "It was always a group thing to take care of each other. And I just felt that even I got out of the military that didn't end for me," stated Copeland as he rested with his mother Tonya in Killen on Thursday.
Honorably Discharged from service, Copeland now copes with PTSD. A disorder which is claiming the lives of veterans and service members far too often.
"22 veterans die a day and one active member will commit suicide a day," Copeland explained. "That is just unacceptable to me and I didn't have any political or financial resources to do anything about it."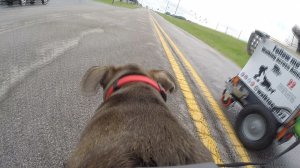 So he and his service companion "Mollie" are on a #WalkToEnd22.
Copeland said this walk has helped him on his own personal journey. "Doing this walk has exposed me to everything I don't like doing, and its sort of retrain myself to be part of society."
And Copeland said if he can help save one life, this year long walk will be worth it.
He is making his way across the country with the goodwill of churches and individuals.
Copeland will be making his way through northwest Alabama over the next couple of days as he heads west into Mississippi.
Follow this link to help and track his journey.