This is an archived article and the information in the article may be outdated. Please look at the time stamp on the story to see when it was last updated.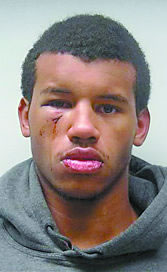 FLORENCE, Ala. (WHNT) – A University of North Alabama football player has been suspended from all school activities following a weekend arrest.
Korey Jones, 20, has been charged with domestic violence, attempted burglary, criminal mischief, public intoxication, and minor in possession of alcohol.  He's played wide receiver for the Lions for the last two seasons.
Jones was arrested by UNA Police following a 911 call about a disorderly person trying to break in to a campus apartment.  Investigators say Jones is accused of assaulting a female inside the apartment and then trying to break back in after he left.
Athletic department officials say they will wait on an investigation to be completed before deciding Jones' future with the program.