This is an archived article and the information in the article may be outdated. Please look at the time stamp on the story to see when it was last updated.
FLORENCE, Ala. – When we hear the word's "power" and "rates" many of us cringe. The thought of paying more for power we consume – leaves an unsettled feeling in our gut.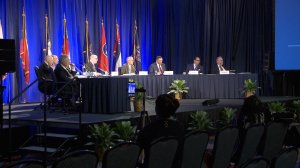 On Thursday in the Shoals, the TVA Board of Directors approved a restructuring plan for rates which completely changes how they sell power.
Nearly 85-years ago TVA was created to bring power and prosperity to the Tennessee Valley. They've been able to fulfill their mission through the sale of electricity. However, through the years TVA management says their rate structure wasn't what it needed to be.
"Those who utilized distributed energy resources benefited, but others have had to pay for them to benefit, so there was cost shifting," explained TVA CFO John Thomas.
Over the past 18-months, TVA managers have been meeting with local power companies to restructure how they wholesale power. For years, TVA would only charge local power companies for what they used.
"If you're depending on something that is tied to volume only, then sooner or later you'll run out of money," stated Florence Utilities Director Richard Morrisey.
The new formula is much like a household budget. Running a home, you know what your fixed costs are like mortgages and car payments. TVA has the same fixed costs so to speak – such as electrical lines and generators. The restructuring of rates, allows them to make sure those costs are covered outside of fluctuating power sales.
"It's just a mechanism to create a more stable source of revenue without raising the energy rate," said Morrisey.
Which is all most of us on a budget are worried about anyway; making sure rates stay the same and costs are covered.
Utility managers in northwest Alabama say the restructuring of power rates will have little to no visible effect on consumer's power bills.