This is an archived article and the information in the article may be outdated. Please look at the time stamp on the story to see when it was last updated.
COLBERT COUNTY, Ala. – The Tuscumbia Police Department has launched a death investigation Tuesday. In August, a man was struck by a vehicle which fled the scene.
The tire tracks have started to fade in the summer sun. They are in the parking lot of Chapel Hill Church of Christ in Tuscumbia - evidence of a car spinning out of control and striking 30-year-old Gillus Carter.
"We are going to use every resource we have possible; including some other law enforcement agencies to help try and solve this case," stated Tuscumbia Police Chief Tony Logan.
Carter was in the parking lot on August 16th to help someone fix a broken headlight, according to family members. While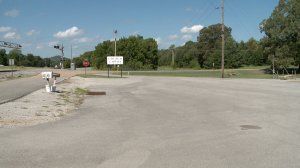 doing so, a vehicle came into the parking lot and started spinning out – purposely doing doughnuts. The family says Carter was hit by the car and suffered unrecoverable injuries. He passed away on Friday.
"We've been trying to reach out to some people we feel like may have some information, it's been slow getting the information in," Logan explained.
Chief Logan believes maybe even a passer-by saw the vehicle who hit Gillus Carter and sped away. He says the family has already been through a lot and this incident doesn't need to go unsolved.
"This is a tragedy for the family, and they deserve closure for Mr. Carter's death," said Logan.
Investigators are asking the public to call if they have any information on this crime. To contact the Tuscumbia Police Department dial (256)383-3121. If you would rather leave an anonymous tip, contact the Shoals Area Crime Stoppers tip line at (256)386-8685.