This is an archived article and the information in the article may be outdated. Please look at the time stamp on the story to see when it was last updated.
TUSCUMBIA, Ala. – The second man to stand trial for the murder of a Tuscumbia teenager learned his fate on Tuesday.  It didn't take a Colbert County jury very long to convict a Muscle Shoals man of capital murder.
According to courthouse officials, Peter Capote was found guilty after just over an hour of jury deliberations. Capote has been on trial for his part in the shooting death of Kijana Freeman in March of 2016. Immediately following the guilty verdict, the jury began the penalty phase of the case.
Those who have sat through the trial over the last week say it's been very similar to the trial of Benjamin Young. Young was convicted of capital murder in February for his part in the murder of Kijana Freeman.
Prosecutors have said Capote and Young were the shooters in the ambush which took place at Spring Creek Apartments on March 1, 2016.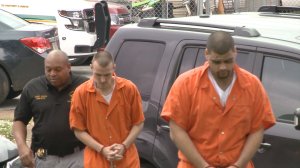 On Friday, prosecutors called a cellmate of Thomas Hubbard to the stand.  Hubbard is thought to be the mastermind behind the ambush. According to the inmate, not long after Hubbard and Capote were arrested, they began talking about Freeman's murder. In a note passed between the two, Capote admitted to killing the Tuscumbia teenager. In testimony, the inmate said Capote told Hubbard that he would take the charge, so Hubbard could take care of his wife and child.
According to police investigators working the case, Hubbard was under the impression Kijana Freeman had broken into his home and stolen an Xbox.
Jurors must now decide if Capote should be sentenced to death for Freeman's murder. They will continue hearing testimony Wednesday morning.
The capital murder trial of Thomas Hubbard is set on the June trial docket in Colbert County. Riley Hamm, the fourth man charged with capital murder in the case, is set for arraignment in August.